Nothing beats ROI more than a thoughtfully planned SEO content marketing growth strategy with the power of compound effect.
Compared to the world of institutional and advanced investors, these professionals understand and always leverage the power of compound growth.
But in digital marketing, it is nothing to sneeze at.
And here is the truth.
Would you agree?
For that reason, today's topic belongs to the wealth stage called Build Wealth With Elite-SEO skills.
In short, within this stage, I want you to have full responsibility over your life by developing elite skills first.
This skill will give you the confidence to earn more and position higher yourself in the marketplace.
To clarify the fact, SEO skill has allowed me to travel the world.
But it took me a few years to realize its scalability and tremendous potential.
Therefore, I call it Elite-SEO skills.
Introduction To The Compound Effect Of SEO Strategy
My current up-to-date elite SEO role is to implement high-level strategies for businesses (niches) operating at highly (un)regulated markets in various countries and continents.
Most important is, I've been working with SEO for over a decade.
And during my SEO career, I've observed something that can't be overlooked.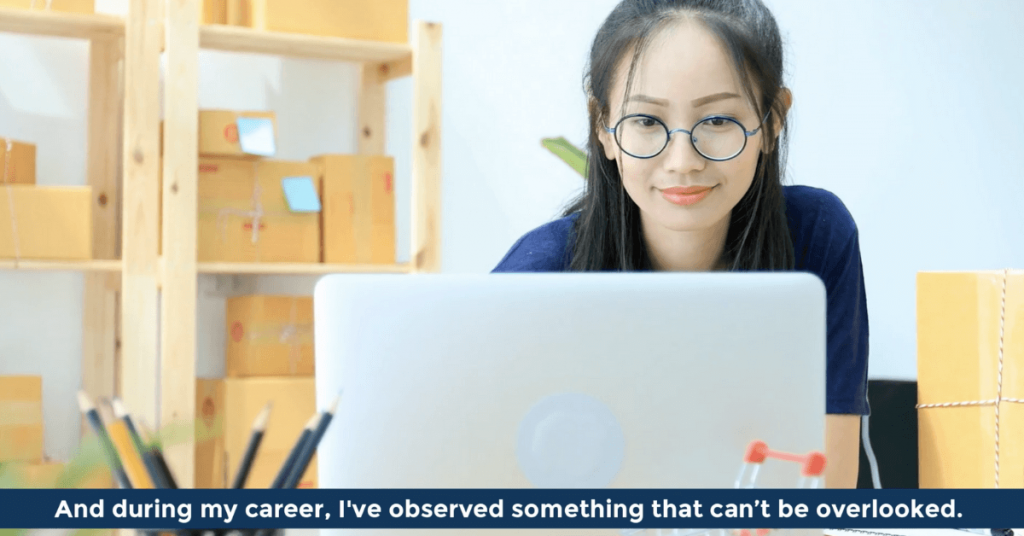 And as a result, I made a video and wrote this article.
But before we get started, I want you to prove to us you're a true Doer.
That means doerly take action and pat the Subscribe button on YouTube with the bell icon to get notified.
And simultaneously…
Click HERE to subscribe to our growing Doer's community newsletter.
Because every week you will receive one proven strategy within the seven wealth stages of life.
With this in mind, let's talk about the compound effect of SEO marketing growth strategy to accelerate your growth.
Why Is SEO The Most Efficient Long-Term Marketing Strategy Along With The Compound Effect?
Look,
I don't know about you, but I'm a long-term investor.
And I diversify my portfolio across several investment asset classes with the power of compound effect.
But those investments are only possible when you primarily focus on earning first.
That being said, the best part is to develop either your own business or embrace journey as an intrapreneur on top of the elite skills that you have gained.
And get this:
Would you agree?
You just need to be persistent and understand the subject.
Now, speaking of the compound effect of SEO strategy, here is the best part.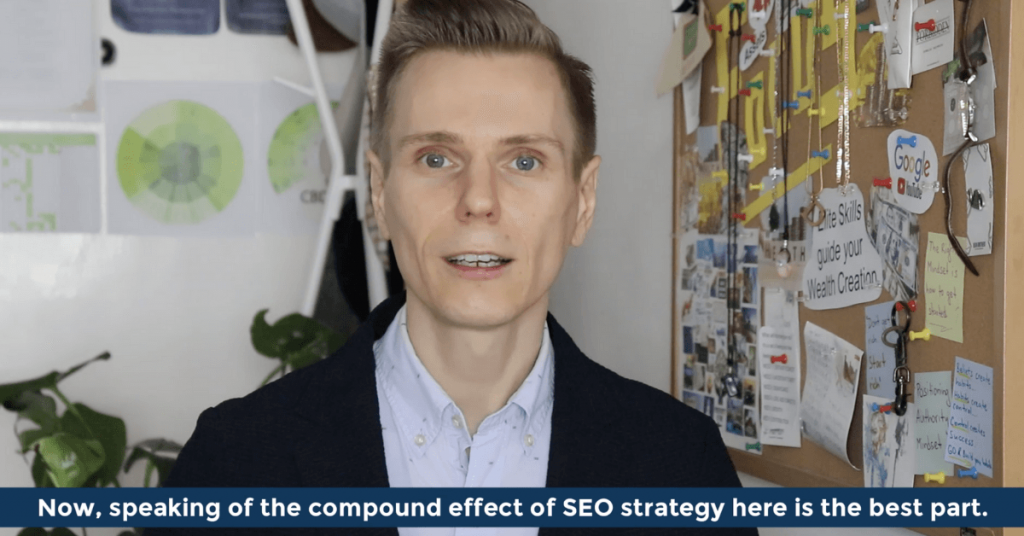 Don't you believe it?
Let's find out…
SEO Content Marketing Growth Strategy Delivers The Best ROI In The Long Run
You may or may not believe it…
In fact, SEO content marketing is a comprehensive acquisition and distribution channel with the highest ROI in the long run.
And if you want to understand and dive deeper, read the following article or watch a video.
To underline my fact,
a former Google product manager Tomasz Tunguz and now a partner at Redpoint Ventures focusing on software investments stated:
"Content marketing is a little bit like a bank account where you get the benefits of compounding returns." 
And when you think about it,
for example, real estate SEO content marketing is the same as an investment asset class.
You may be wondering why?
Do you agree?
It's that simple, yet often overlooked.
Take the case of gaining your:
reputation,
trust,
and authority within your industry.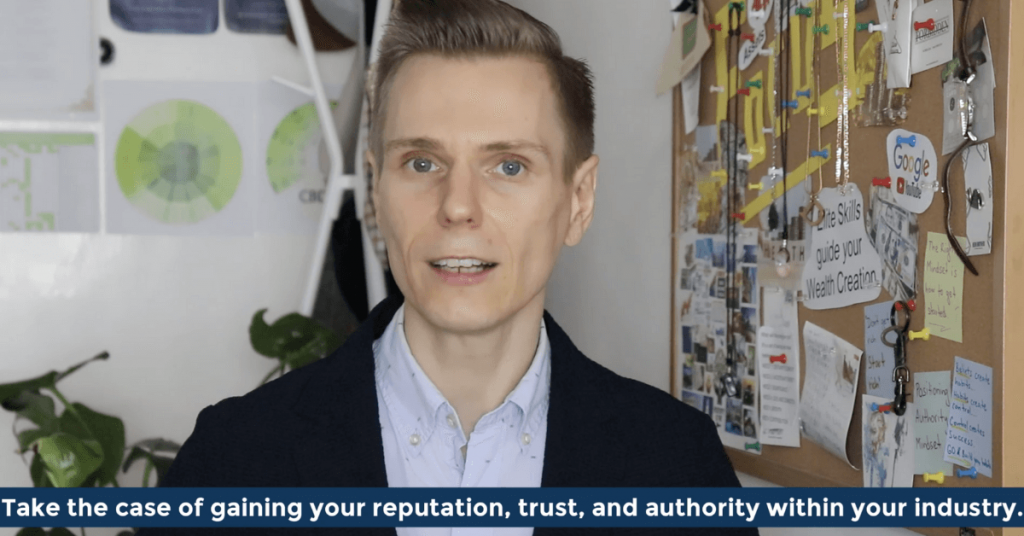 Would you agree?
Of course, it depends on your strategic process.
But all the time, while curating content plans, it's important to keep in mind the compound effect of SEO strategy.
What Does The Strategic SEO Process Look Like?
Listen, just a simple content plan isn't enough.
And I've seen many lagging content plans.
So how to dominate?
To illustrate, there must be a strategic system which prove a fact that content is king.
And I split this system into five pillars.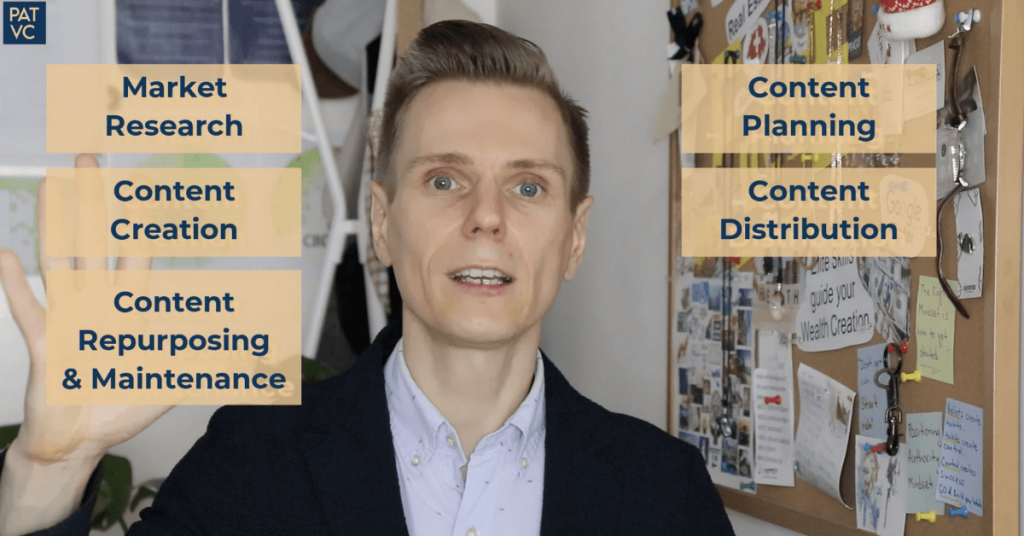 As a matter of fact, the big problem of today's newly established brands is the lack of SEO content writing.
But let me tell you how to fix it…
Understand The Different Types Of Content Marketing Roles
One of the most important parts is to understand what you are looking for while developing your brand.
Don't make me wrong, but in the beginning, you have very limited resources, capital, and team.
Would you agree?
That's why I want you to honestly and carefully answer this question.
Are you looking for SEO Content Writing or Copywriting?
Can't you answer?
Let me explain…
"With SEO Content Writing, the primary goal is to generate organic search traffic via search engines."
On the other hand,
"With Copywriting, the primary goal is to convert traffic into leads and sales."
As you can see, these two roles are unique and at the same time distinct.
But speaking of the compound effect of SEO strategy, you need to master first SEO Content Writing.
I know what you are thinking.
But how?
Remember this.
On the negative side,
You may not see any results after one week or after one month.
Heck, you may not even see traffic for half a year.
On the positive side, if done precisely and with patience, then you may expect exponential growth.
Look at this customer acquisition chart.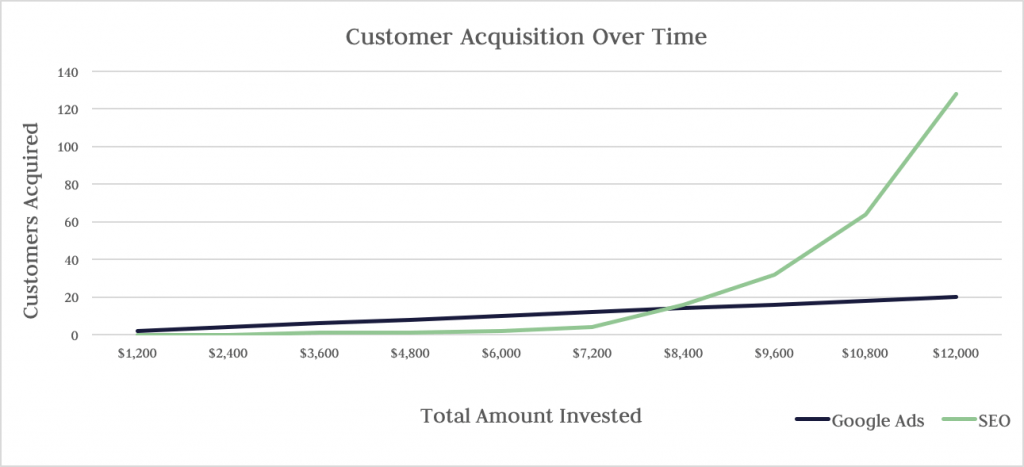 Do you see the potential of the compound effect of SEO strategy?
And if this doesn't convince you, let's compare it with compound interest on your investments…
The Compound Effect Of SEO Strategy Has The Same Power As Compound Interest On Your Investments
To illustrate,
look at this chart of compound interest with an initial balance or principal of $10,000 and no monthly contribution at all.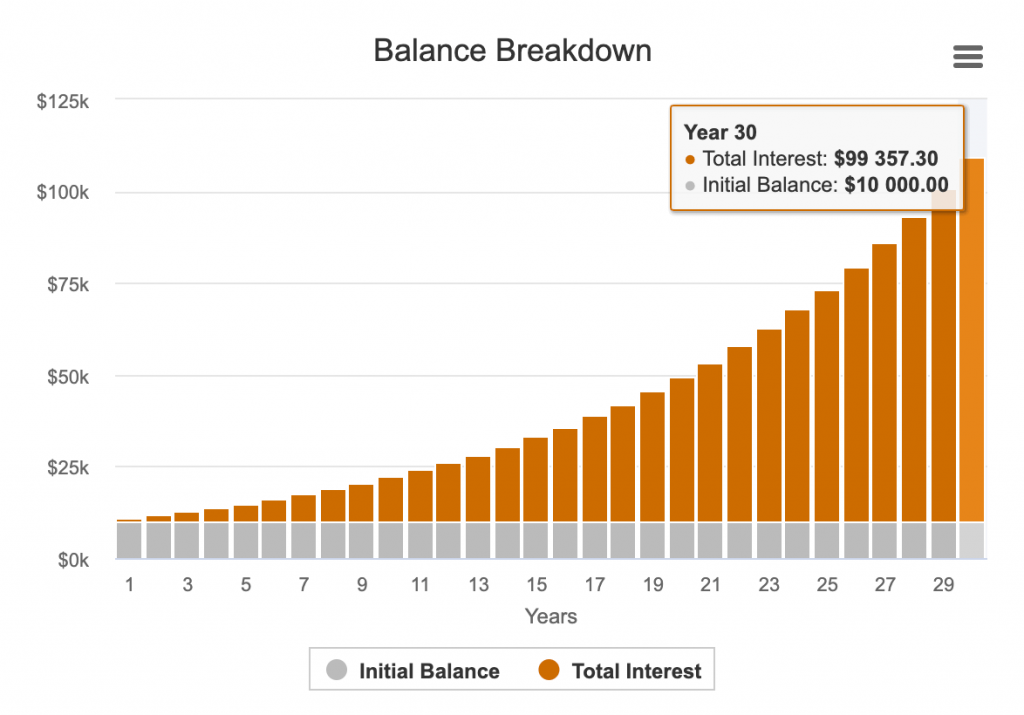 The result is pretty good, with an 8% annualized average return spanned across 30 years.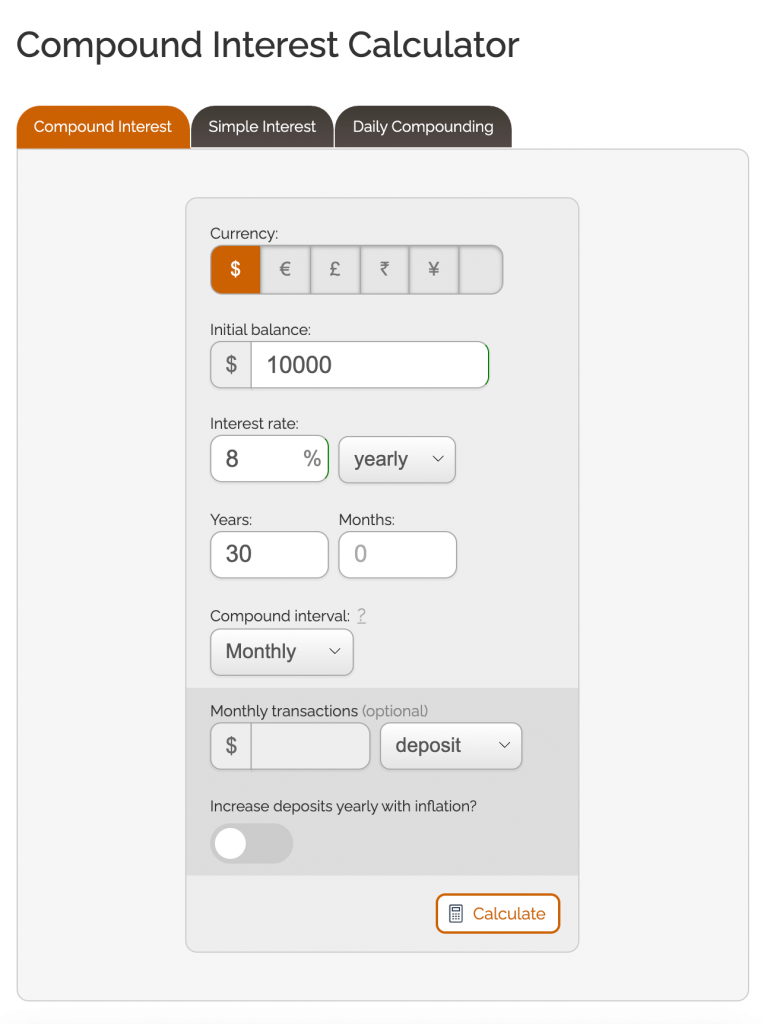 But on the other hand, look at the same scenario with a regular $100 deposit every month.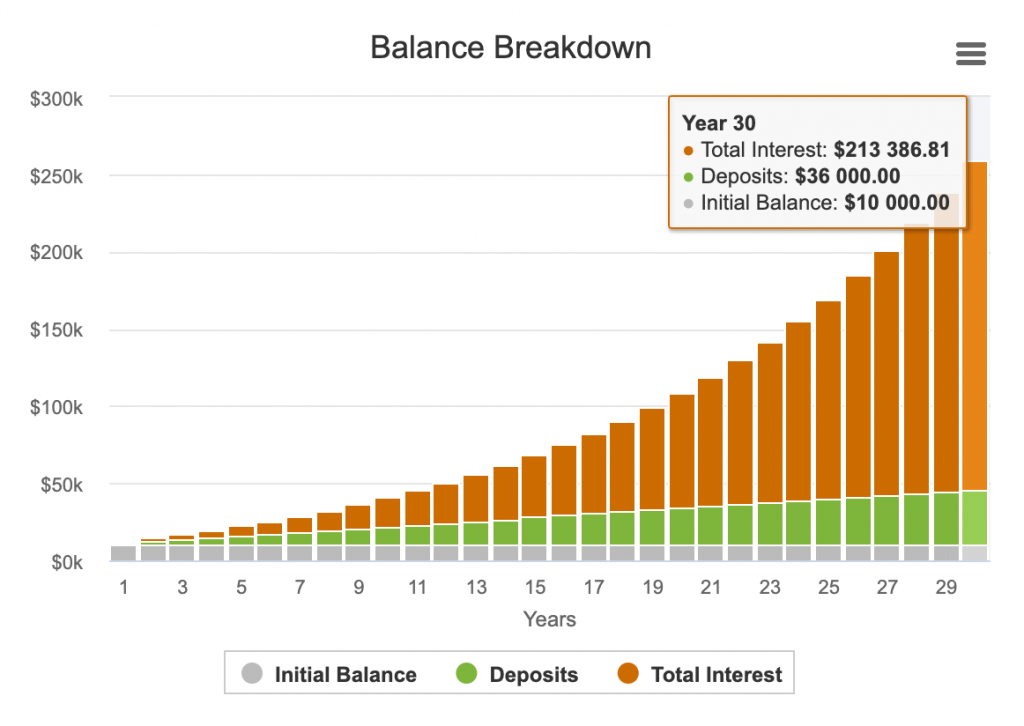 Do you see a big difference?
That's the power of compounding effect on your investments while contributing or depositing every month.
In other words, you earn interest on your interest, and over time it accumulates and accelerates like a snowball.
And I want you to throw away your disbelief and recondition your mind to the following fact.
So the question is, what should you do?
Keep Executing SEO Content Marketing Growth Strategy
I don't know why people are always looking for shortcuts in terms of how to:
Because the solution is very simple.
It lies in the compound effect with a well-defined SEO content marketing strategy.
Nothing more, nothing else…
So once you've created an evergreen or a piece of valuable content, it may stay within search engines practically for a very long time.
And when you maintain and update it all the time, that's the power of the compound effect of SEO strategy.
Now, a few points need to be mentioned.
When building a brand, the question is always…
The answer to this question doesn't need to be complicated.
You need to treat SEO like the number one marketing acquisition and distribution strategy.
Because over time, the compounding returns on your content marketing, can help your business grow faster in the long-term.
And the compound effect applies to SEO marketing strategy for articles or even video creation.
Practically anything that has the potential to increase its return over time.
And if you should remember just one thing from this video, get this: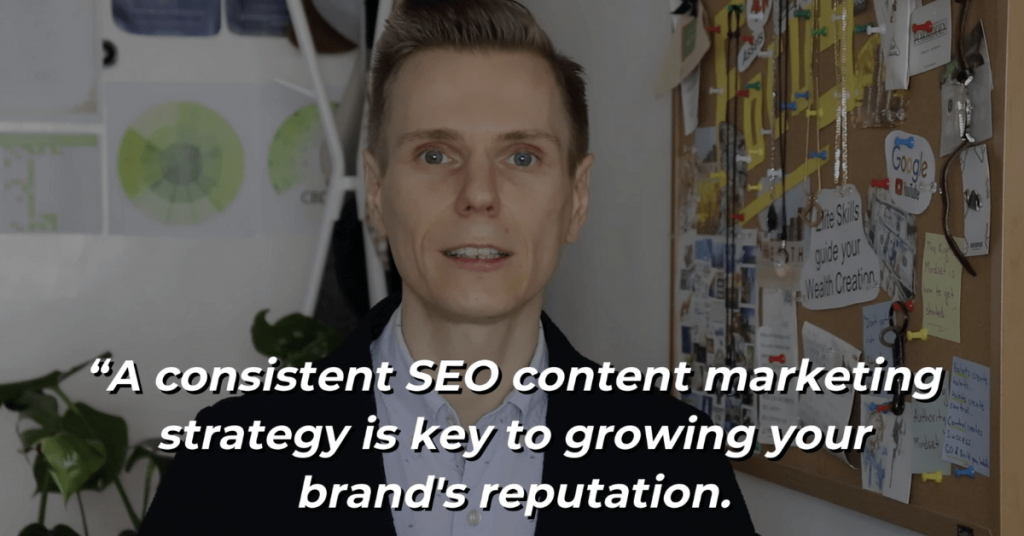 Time To Leverage Massive Action With The Compound Effect And SEO Marketing Growth Strategy
To rephrase it,
begin treating SEO in digital marketing as the most valuable long-term investment in order to accelerate your growth.
So now tell me,
Are you going to make a long-term investment in your website and increase your return?
Because the sooner you start, the better your positioning will be.
And therefore you have to take massive action now.
Leave us a comment below because mastering digital elite skills such as SEO is a crucial stage in your life.
As a reminder, doerly pat the Like button to give our video more exposure and love from the YouTube algorithm.
And don't forget to Subscribe together with the Bell notification because every week you will receive a video within the 7 Wealth Stages of life.
Most importantly,
Click HERE to subscribe to our growing Doer's community newsletter.
The reason?
Because I want you to become a Doer.
Thanks for watching or reading and I will see you next week.