Have you ever come across the concept of financial responsibility?
Certainly, you have and for sure you also may have heard a gazillion times:
"You should be more financially responsible".
But frankly,
besides saving and investing, what does your brain budgeting look like in order to be financially responsible?
Can you honestly answer this question?
Don't worry, because reading this blog post will rewire your mindset and change the way you think about your financial responsibility.
And I call it the 7-Step Brain Budget.
So wouldn't it be great if you knew a step-by-step process of how to invest in your brain?
I guess it would…
So here is a 7-step brain budget of your financial responsibility.
7. Financial Responsibility – Focus On Your Income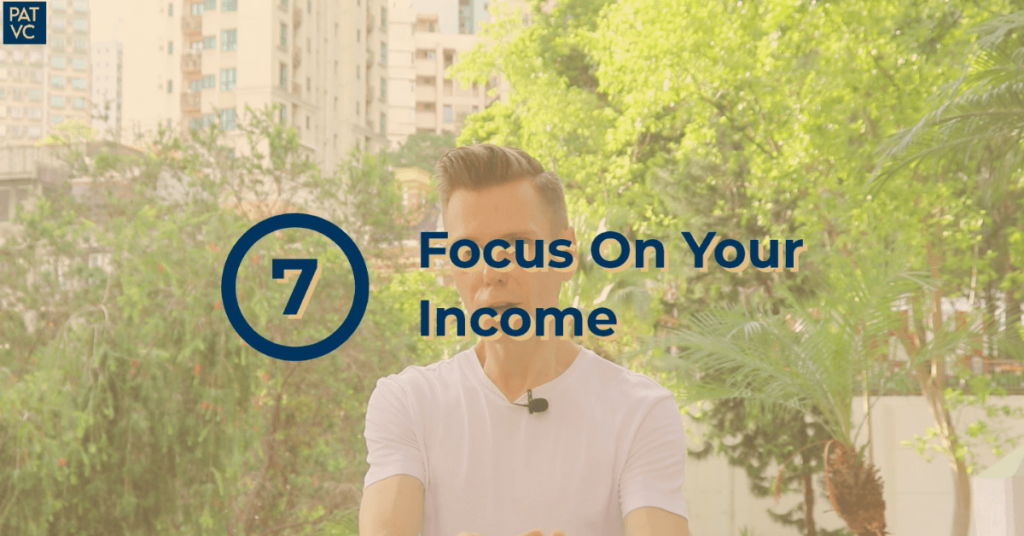 What does your monthly income look like?
Does it cover all your living expenses and still have some discretionary income left in your bank account?
The reason why I'm asking is, you must focus every day on increasing your income.
Because when your bills are piling up and you barely see some discretionary income in your bank account by the end of the month, you have a problem.
But instead of pondering about where and what expenses to cut, I want you to spend more time thinking about how to make more money.
For example:
It may be more effort and overtime in your current job.
Maybe you can help build sales funnels or you can sell the products in the ecommerce store.
I hope you get the point because it's only up to you to find that additional financial vehicle.
Most importantly, it all boils down to the following principle.
"Try to spend most of your time increasing your income because you want to invest in your brain regularly. On the contrary, reduce drastically spending time on your expenses."
You get it?
Good because then proceed to the next step of financial responsibility.
6. Analyze Spending Habit In The Last Month To Three Months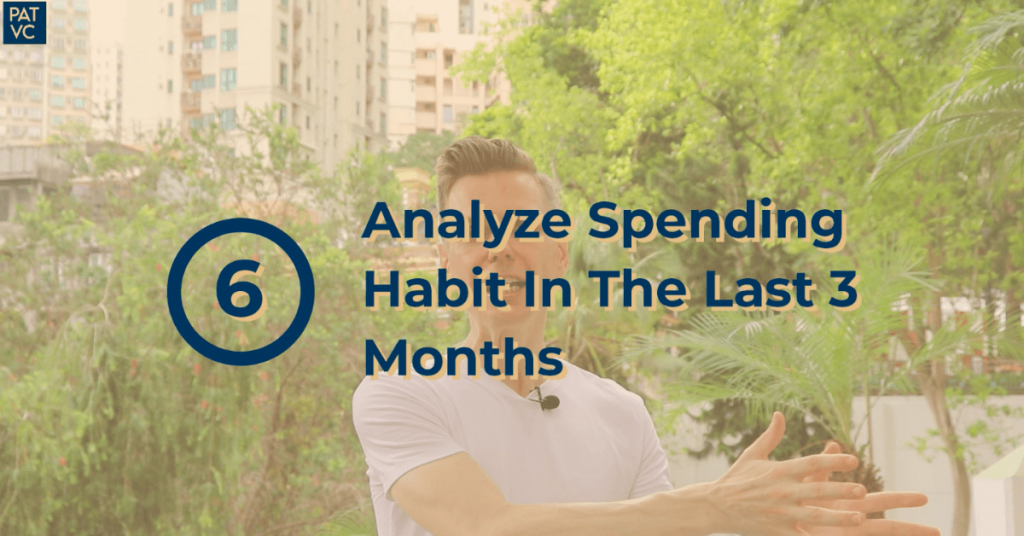 This step is scary, and it is really frightening for some people.
And I can tell you why.
Because most people spend their income on some things that are consumer-driven.
Then, when there is a bank statement in their mailbox, they are afraid to tear the envelope and look at it.
Maybe you are in the same situation. Maybe you receive your bank statement electronically and avoid opening it.
But listen, you need to rewire your mind to look at your spending habits at least once per month. Ideally every week and every day.
And here is how you can do it.
First, take a pen and go one by one item on that statement.
Second, create a scale from 0 to 10, where ten is the item's highest priority and you can't practically live without it. And closest to zero are useless items that are consumer-driven. So analyze it and think about whether or not you need to buy these items.
Look, this step has to be your priority.
Because…
"Your financial responsibility is to climb up the wealth pyramid and come up with a ratio of your discretionary income."
For that reason, let's talk about it in the next step…
5. Finding Your Discretionary Income And Your Ratio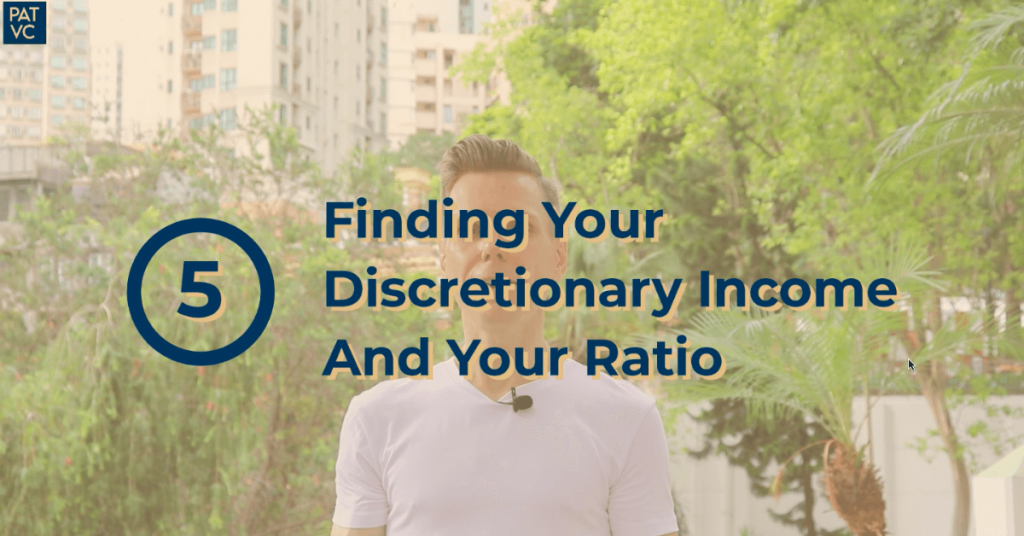 In the previous step, you've analyzed your monthly bank and credit card statements.
Now, the financial responsibility in this step is to find your ratio.
It means the amount of money you are going to invest regularly in your brain.
For example:
If your monthly salary is US$5,000 and after you pay all your necessities, your discretionary income is US$500. So your savings ratio is 10%.
Frankly, does it motivate you to save that money, spend it for no reason, or wouldn't it be better to invest part of it in your brain?
Honestly, how are you currently spending your discretionary income?
Do you see where we are going with this?
Still not getting it?
Look at it this way.
If you find that your savings ratio is 10%, try to look at your spending habit, again and again, remove unnecessary items, and look for ways to increase your income.
Because…
"If you want to distinguish yourself from the masses, you need to reinvest in your brain at least 30% of your savings ratio."
It's hard, isn't it?
And here is why…
4. Allocate 30% Of Your Discretionary Income In Your Brain Budget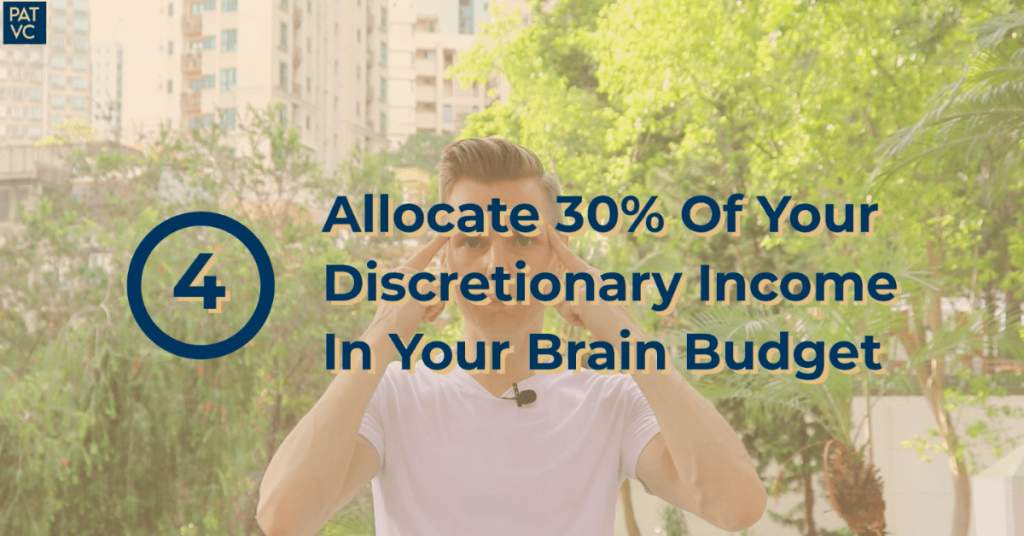 I hear you now, and some of you may be arguing with me that 30% is an unachievable number.
But listen, if you want to speed up the process to achieve better financial responsibility and climb higher in society, you must invest at least 30% of your discretionary income in your brain.
And even if your income decreases or increases, the ratio should remain the same for the entire period of your personal and professional development.
In other words:
If your savings ratio is 10% and your discretionary income is $100, then invest $30, which is 30%.
As a result, you start developing enabling beliefs, self-discipline that leads to habits.
And after that, your brain will kick back a relative return on your initial investment.
For example, it can be a promotion:
at your work,
a new business partnership,
or enhance your current relationship.
So stick to your ratio.
Because…
"When you keep the brain budget ratio all the time the same, you will unleash your potential within you."
And I know, it sounds tough, therefore read this…
3. Be Tough On Yourself And Stick To Your Brain Budget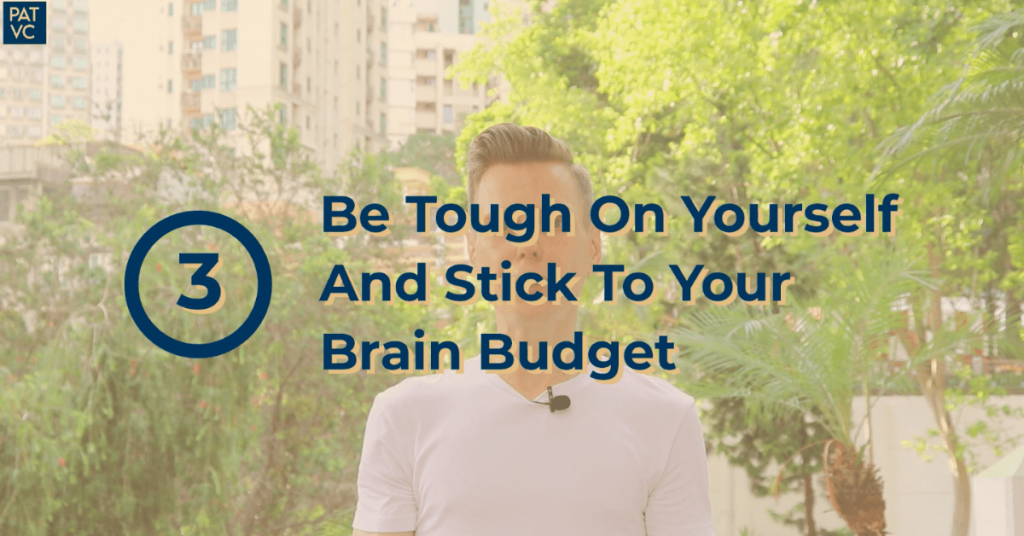 The first tip right off the bat:
Figure out how to build effective self-discipline in order to stick to your brain budget ratio.
What I mean by that is, when you've done all the previous steps and know your ratio, it's just on paper.
But the most important part is to take action toward your financial responsibility.
And again, it can be super tough because to rewire your brain from bad habits to good habits is unimaginable for some people.
But I want to give you four quick tips.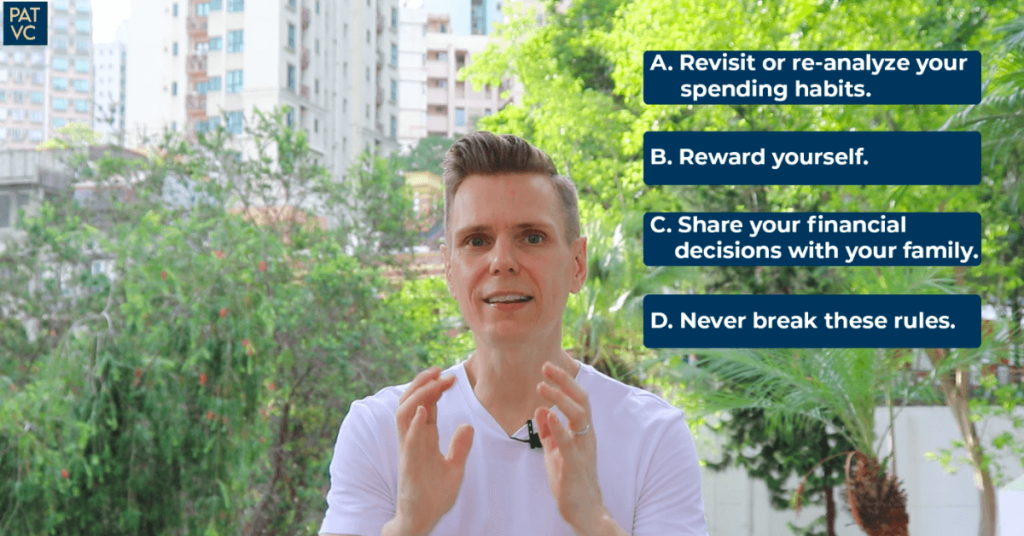 A) Revisit or re-analyze your spending habits ideally every week or every day. Track your progress rigorously.
B) Reward yourself. Yes, you already make sacrifices, but it doesn't mean you need to cut your indulgence. Give yourself a small reward within your fun budget. And never exceed it.
C) Share your financial decisions with your spouse or family that you intend to invest in your future – in your brain.
D) Never break these rules. Be tough on yourself and stick to your brain budget because it will pay off.
2. Use Several Tools Of Wisdom To Reinforce Your Financial Responsibility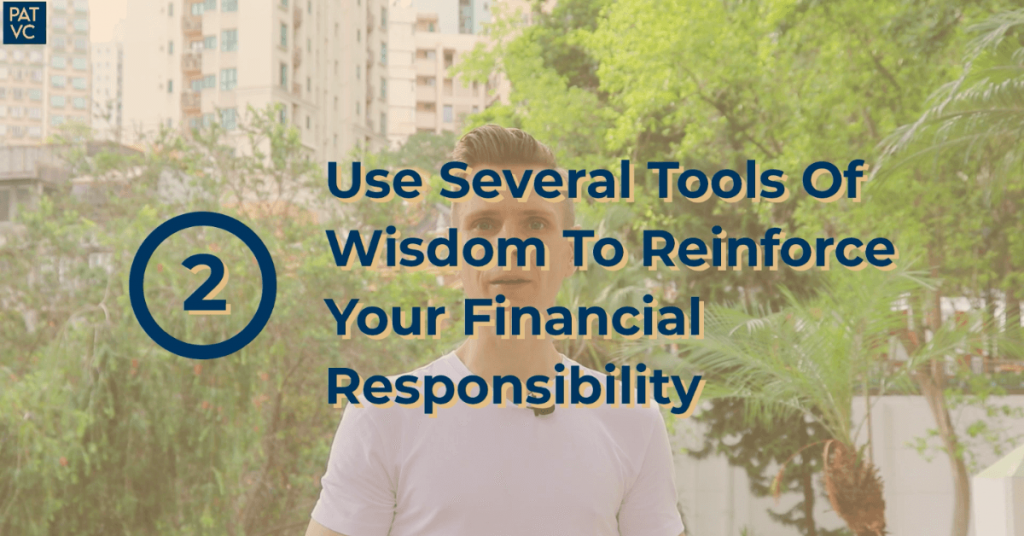 After knowing your brain budget and getting ready to invest in your brain, you must be smart about what financial ingredients you use.
What I mean by financial ingredients, I call them tools of wisdom.
And there are several learning levels.
The first level of tools of wisdom is:
Reading
Yes, you hear it everywhere, but be honest with yourself, how many books do you read?
How do you treat those books?
And after reading, do you just tick it off of the list and forget it?
It is also important to know what kind of book you read, but most importantly find golden nuggets and use them.
Because knowledge is not powerful, knowledge is useless when it is not used.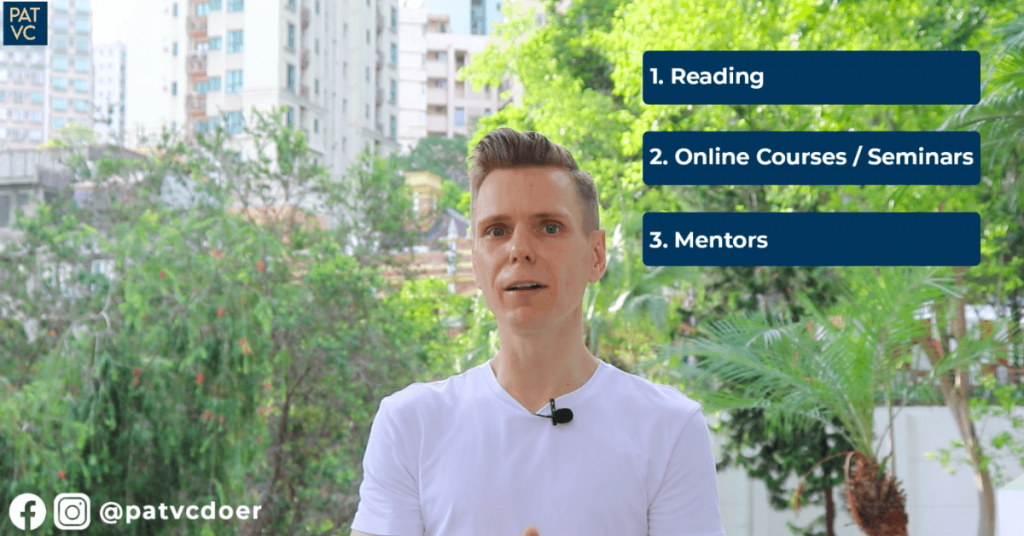 The second level of tools of wisdom is:
Online courses, seminars, webinars, conferences
More about it later….
And the third level of wisdom tools is to have:
Mentors, personal coaches
…or someone close to you whom you personally learn from.
But listen, your ingredients shouldn't be related only to the financial wealth area.
For example:
Traveling can have a huge impact on your life abroad for many years.
So I hope you understand the point.
And the last step is…
1. There's No Excuse To Build Your Brain Budget As Everything Is Online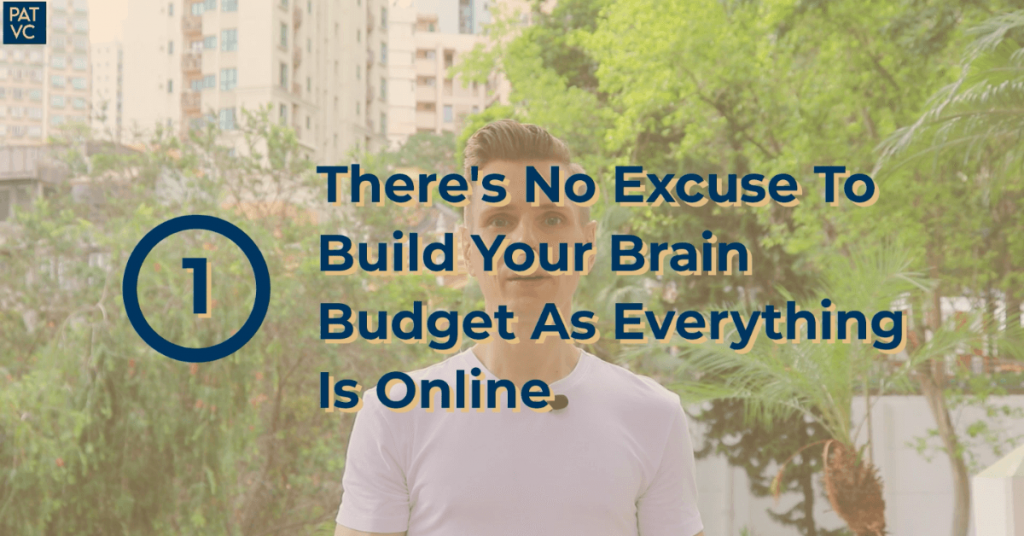 Listen,
people are masters at making excuses.
Because they can come up with unbelievable stories about why they don't show up, or why they are busy.
So I want you to think about it this way:
"If you are an introvert and don't feel well in socializing, there is no excuse. Because today everything is online."
And if you're constantly postponing that seminar or conference, stop lying and buy tickets online.
In this way, you can participate in it in the comfort of your home.
Because there are numberless conferences on any subject, industry, or niche you are in.
See, it's endless, and there never ever must be any excuses to use your brain budget because everything is online.
It's Time To Take Seriously Financial Responsibility
As you can see,
Financial responsibility to invest in your brain is easier when you know the steps.
And yes, it's about rewiring your bad habits and being tough on yourself. Because usually during this transformation period, the first months will be difficult, but you must keep going.
So remember this:
Does it make sense?
Now, what about you?
What are your steps to develop your brain budget?
Maybe you feel trapped to find the starting point to unlock your financial responsibility.
If so, leave us a comment below.
At the Pat VC 7 Wealth Stages framework, we are here to show you the direction.
In the end,
It is up to you to unleash your revolution and stand out from the average and ordinary life.
Because you want to become a Doer.
And you want to build a better life, which means holistic wealth.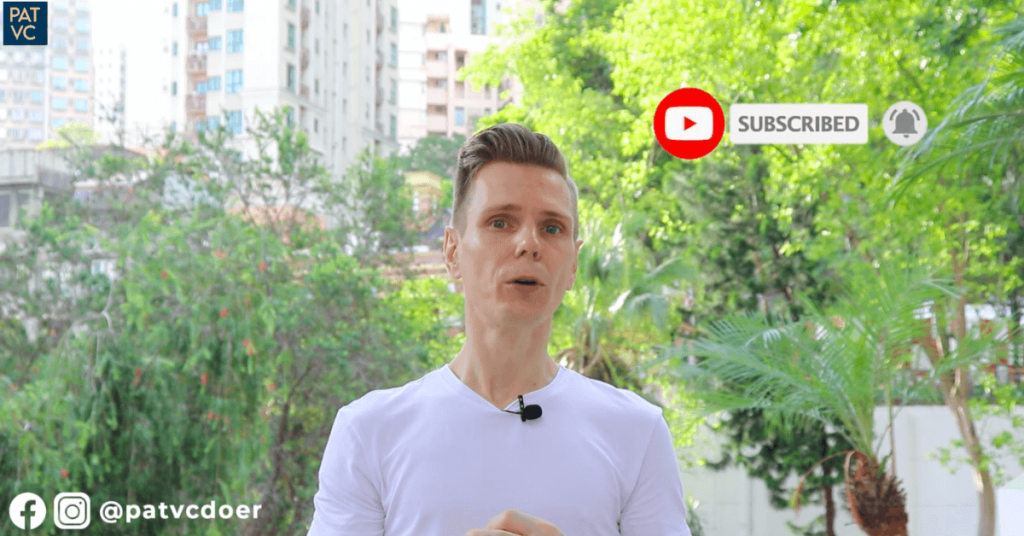 So that's all for today …
Thank you, Doers, for reading or watching this video.
Last but not least,
Click HERE to subscribe to our growing Doer's community newsletter.
I look forward to seeing you next week.