Believe it or not, one of the key steps to overcome scarcity and recondition to prosperity is to understand the difference between growth mindset vs fixed mindset.
In fact, so many people have a fixed mindset. And even if you don't realize it, you might have a fixed mindset too.
And what's worse…
If you don't believe in yourself, you will always idle and vegetate.
But, you have to know your price, know yourself, and you have to know where you go.
So the starting point to prosperity and holistic wealth is to overcome scarcity.
And here's the point:
Because you are a Doer, your standards must be higher than average.
Your duty is to climb up the wealth pyramid and hit the six-figure income first.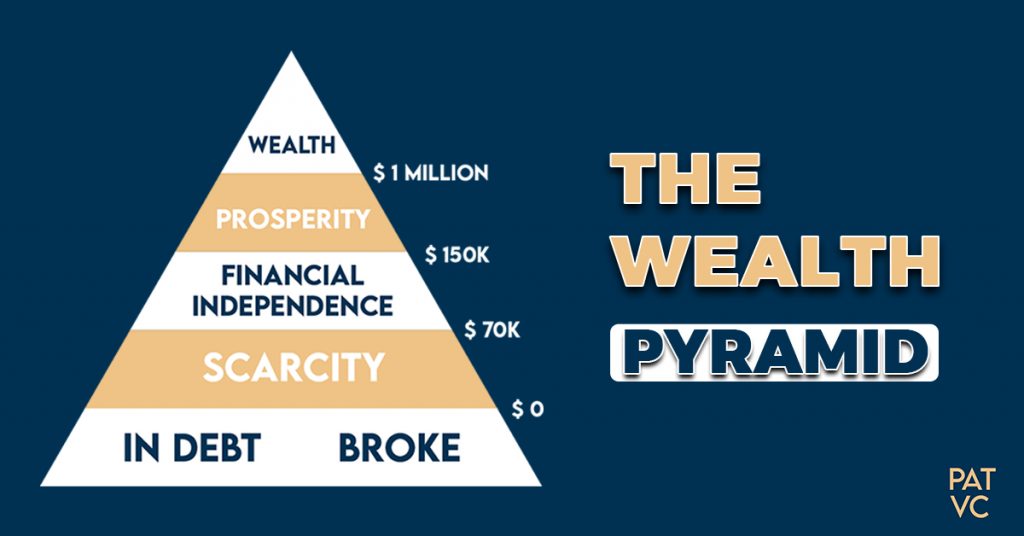 Then you will distinguish yourself from the masses and enter the top 10% with the status of financial freedom, prosperity, and wealth.
And it all starts with a mindset.
For that reason, in this blog post, you will learn the basics of growth mindset vs fixed mindset.
With this purpose in mind, let's sink into it.
What Is The Difference Between Growth Mindset vs Fixed Mindset?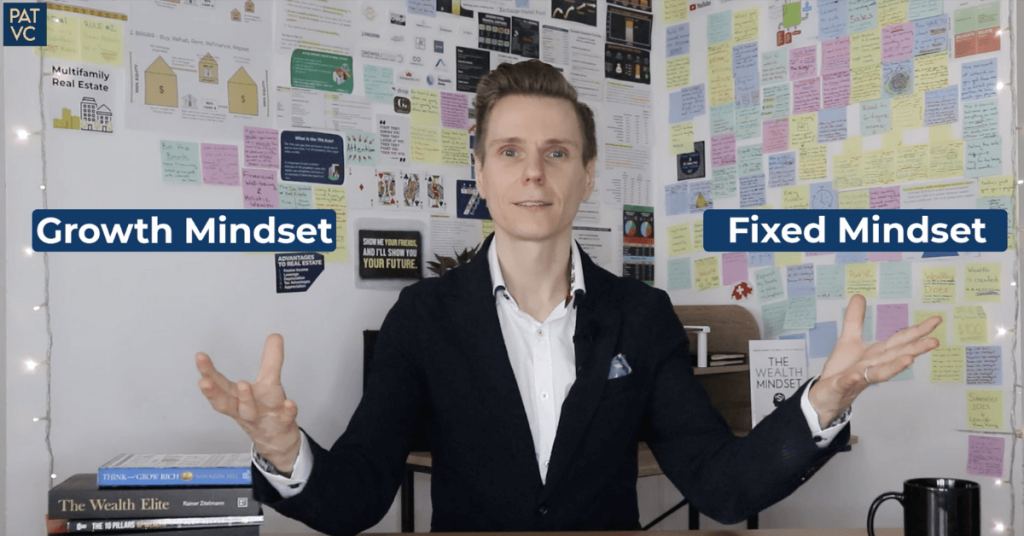 When it comes to basic insight, the starting point of each person's mindset is belief.
Then…
And those habits create a control that reflects whether you will develop a fixed or growth mindset.
Therefore, it's important to be very careful what you plant in your mind.
Because when you believe that your abilities are fixed and you cannot evolve over time, you live in scarcity.
What's worse, you balance at the bottom of the wealth pyramid between being broke and in debt.
That's why I created a framework of the 7 Wealth Stages that helps you overcome that scarcity and find the momentum to move you up toward prosperity.
So, on the one hand, you might have limiting beliefs that hold you back.
For example:
"I can't focus and I always procrastinate"
And so on…
As a result, you plant in your subconscious mind those limiting beliefs which form a fixed mindset.
Now, let me tell you something.
Two Types Of Knowledge – General and Specialized
If you read a book Think And Grow Rich by Napoleon Hill, he explains the concept of Specialized Knowledge.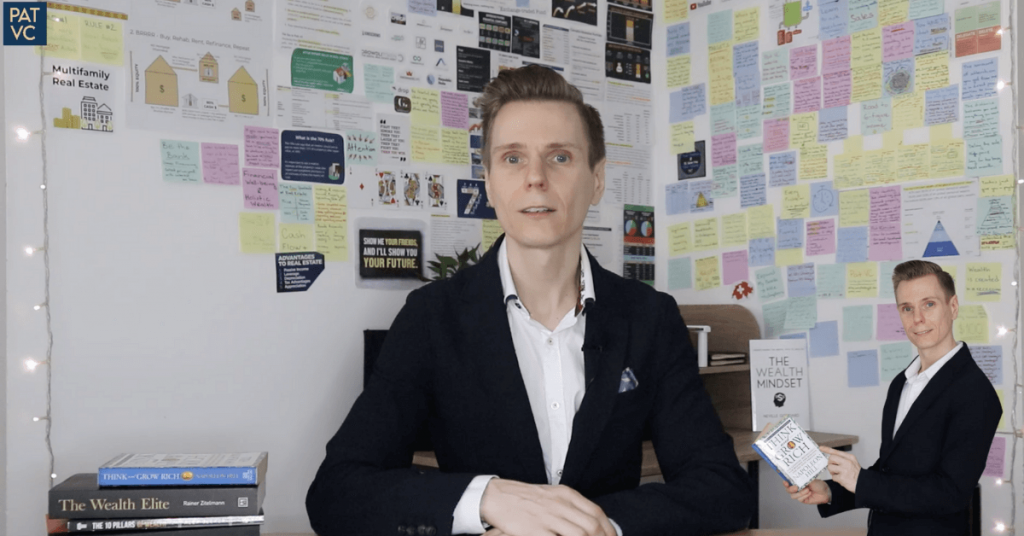 It simply means, in your life, there are two types of knowledge – General and Specialized.
And this is somehow comparable to a fixed and growth mindset.
So I found a deep correlation between these two analogies.
As he describes, you learn general knowledge in your adolescence and school.
But you need to focus on specialized knowledge to form a growth mindset.
It means…
Would you agree?
So summarizing the difference between growth mindset vs fixed mindset is this.
Listen, it's absurd because "you reap what you sow."
But…
Because there is no such thing that could hinder you to grow a wealth mindset.
Now when we have covered the basics, let's talk about what is a growth mindset a bit deeper…
What Is Growth Mindset?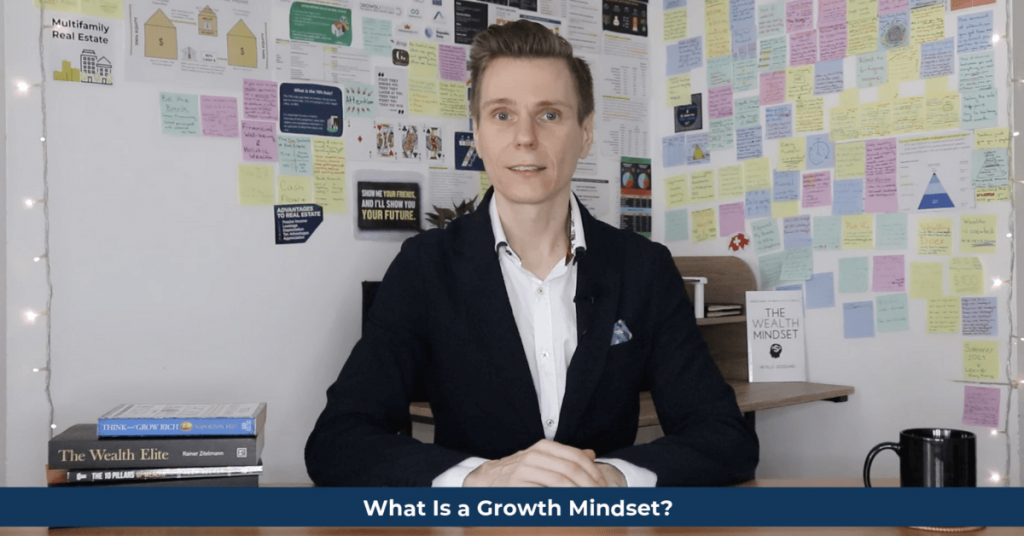 As you have already learned, it begins with what you believe.
And those beliefs shape habits that create control.
It means you want to be definitely in control of your habits and responsible for your life.
Therefore, when any problem, change, challenge, or adversity occurs in your life, you must embrace them.
Certainly, there might be days when you feel drained, out of energy, and fatigue.
However, you feel this is the state of mind that is just temporary and you must overcome that situation as quickly as possible.
For example:
When I feel drained and my mood is emotionally down, I open my Doer Transformation Planner with written goals. And I read those goals aloud and simultaneously I trace with a pen those words.
I encourage you to try it.
Because what it does is, it triggers in your subconscious mind the inner voice. And it soars or boosts your motivation and brings you back on track.
You might argue now…
But listen, how do you know until you try it?
The outcome of this exercise is to train your mind and to adopt it because this habit will create control.
You just have to keep it always in mind and when some setback occurs, just do it.
See, you are armed now with a secret weapon to get motivated to work and grow your wealth mindset.
It means…
For that reason,
I read three books per day in a 20-30min interval.
I'm surrounded by books in every room and when any negative thought appears, I strive to kill it by opening a book and reading some wisdom.
Now, let's briefly describe what is a fixed mindset and why you should avoid it.
What Is Fixed Mindset?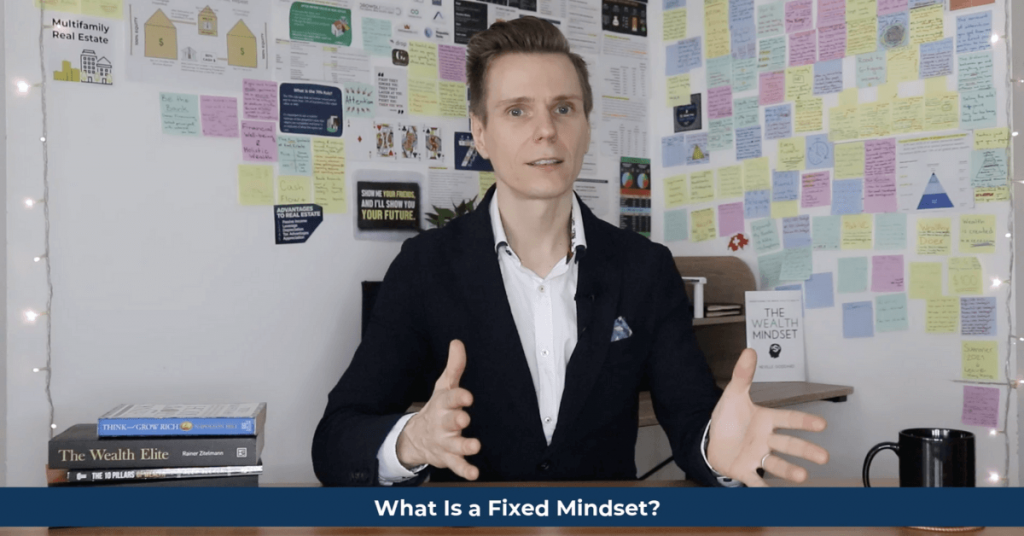 Unfortunately, you may have encountered many people that are the same almost their whole life.
It's nothing wrong to point out to them because this was their decision to stay the way they are without nurturing and growing their mindset.
For example, I grew up in a small village that has around 2,000 people. I love that village because of its nature, hills, paddocks, meadows, peaceful life, and friendly people who practically know each other.
But I have found some of my childhood and adolescent friends remained almost the same with their fixed mindset.
What I mean by that is going to the same job for 15+ years, meeting the same people, doing the same stereotypical work over and over again.
So it seems to me that, in their beliefs, life is practically static without seeing any other doors that would lead to better opportunities.
And I don't believe they enjoy happiness.
However, I see it as giving up enormous opportunities, at least for a while. Like going out of that village, try a new job, and explore the world.
Maybe they are afraid of criticism of what other people say.
Or they are afraid to live abroad and speak a foreign language.
But again, it's nothing wrong if they feel like living the way they want, because it was their choice.
Now the last part of this topic is to ask….
Can You Change From Fixed Mindset To Growth Mindset?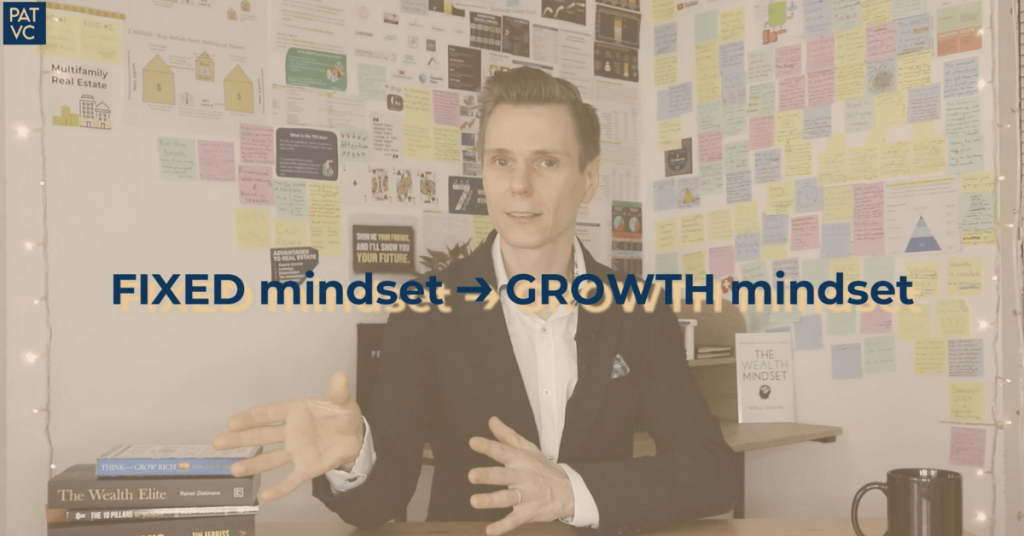 I want to repeat the following statement that you must ingrain in your mind.
So how can you develop a growth mindset?
How can you form and develop a new intellect, ability, or skill?
In fact, many neuroscience studies show that your brain can change from a fixed mindset to a growth mindset.
Here is a list of several hints to implement right now…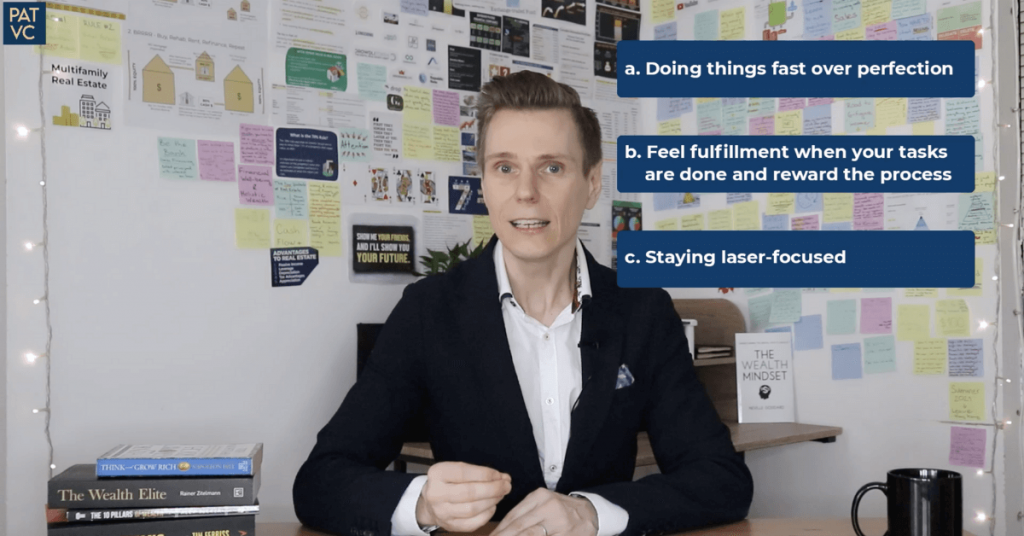 Now Is Your Turn – What Types Of Mindset Controls You?
To conclude this blog post,
If you feel that you struggle to nurture your growth mindset, it's time to form new beliefs.
Of course, it depends on whether you want to or not.
But I assume, because you are reading this blog post or watching a video, you are a Doer who wants to overcome scarcity and climb up the wealth pyramid.
Whoever you are, listen to me cautiously and remember this.
Would you agree?
Now, I'd like to hear from you.
What types of mindset controls you?
Maybe you feel like you are stuck in your fixed mindset, you lack enabling beliefs, and struggle to find the starting point toward prosperity, wealth, and success.
If so, leave us a comment below.
Because the 7 Wealth Stages framework is in power over your beliefs, emotions, desires, and dreams. It guides you toward prosperity and holistic wealth.
And as a reminder, doerly pat the Like button to give our video more exposure, support, and love from the YouTube algorithm.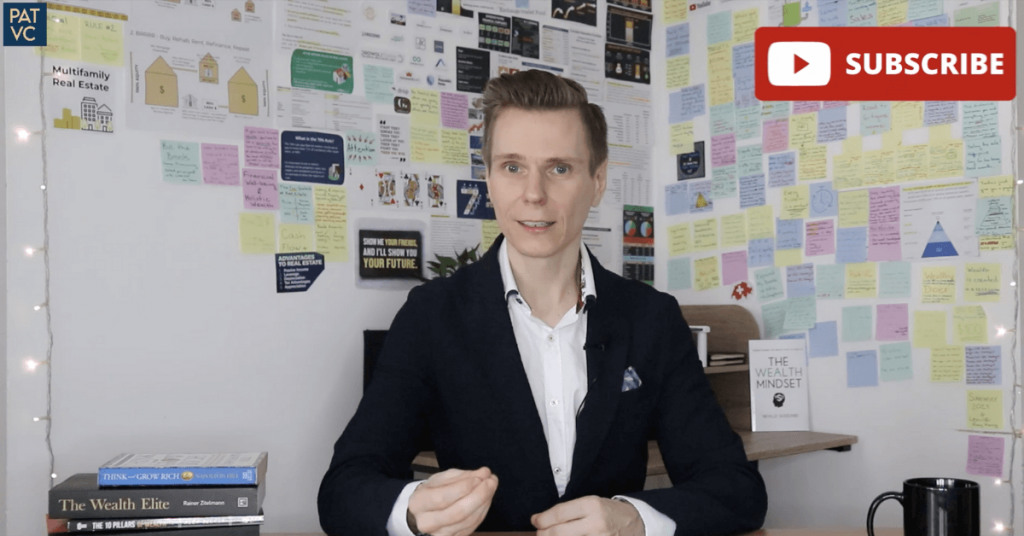 And don't forget to Subscribe together with the Bell notification.
Last but not least,
Click HERE to subscribe to our growing Doer's community newsletter.
Because every week you will receive one strategy that will help you identify your starting point within the 7 Wealth Stages framework.
I invite you to become a Doer.
And I want you to build holistic wealth.
Thanks for reading or watching and I will see you next week.