Today, I want to show you 9 steps on how to become a Doer.
But first, let me ask you a question.
When people call you a Dreamer, does it mean you are not good at what you want in your life?
And conversely,
when people call you a Doer, does it mean you know what you want, you follow your direction and stick to your goals?
I don't believe in this conventional wisdom, because both Dreamer and Doer must be part of our lives.
And if you want to succeed, you need to be both…
Introduction To How To Become a Doer
Do you remember when you were young, you had so many dreams and visions?
And when you went to school, very soon you recognized that society limits you to pursue your dream.
Because they teach you to serve their system what they want.
Literally, they kill your dreams.
But I don't want you to fall into this trap.
Listen,
I want you to fulfill your dreams and most importantly, take action to learn how to become a Doer.
From Being a Dreamer To Becoming a Doer
Look,
I remember those days when I felt really drained.
Above all, I ate junk food, smoked cigarettes, and had no motivation to work.
In addition to that, I was hanging out with the wrong people that didn't push me ahead.
Certainly, it was staying in my comfort zone but I knew I wanted to experience more.
Yet I couldn't figure out how to get out of this circle…
And then it happened to me…
When I first hit the road to study in Australia, many friends told me that I would return soon.
Even more, many of them couldn't believe that I really fly to Sydney.
They thought that I made up this story in my mind and running somewhere near just to hide.
Isn't that ridiculous?
But it was real…
Do you want to know why?
The answer is "mindset"…
And that time, when I left my country, I learned how to become a Doer.
Moreover, I realized I'm becoming one of them.
But that's not all…
How To Become a Doer In 9 Steps
The greatest shift began in my brain when I hit the age of thirty.
Within the 7 Wealth Stages, I've started developing and improving The Doer steps throughout the entire day, which I still follow.
So let's get down to it.
First, I want you to start developing that I call is…
1. The Doer Morning Routine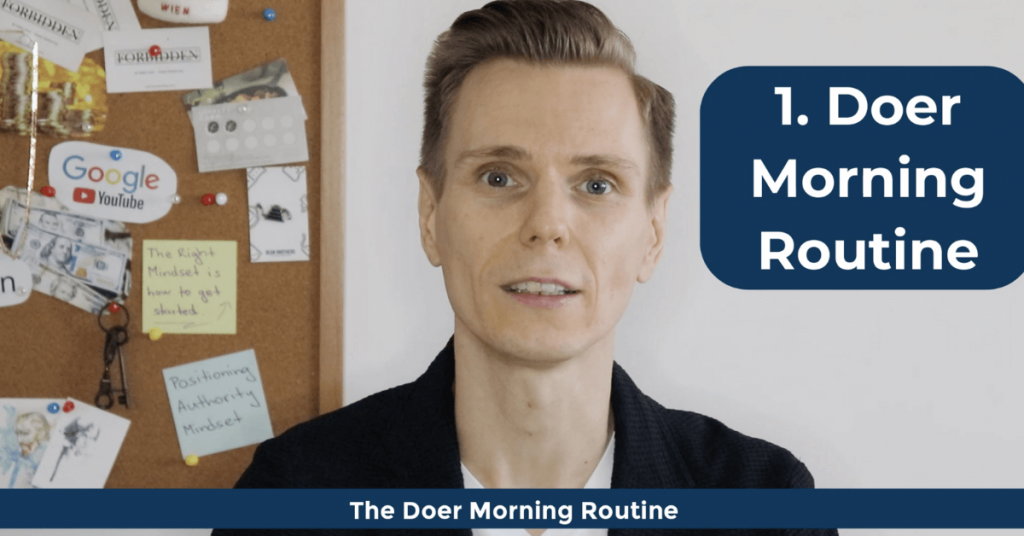 So what does it mean?
When you wake up, drink a full glass of water because it tremendously boosts metabolism in your body.
And to stay energetic for the whole day, you need to get off your butt to exercise or perform the intense stretch.
And what next?
Stay with me because I'm going to tell you what works for me.
After 30-min stretching, it's my 15-minute Gratitude meditation.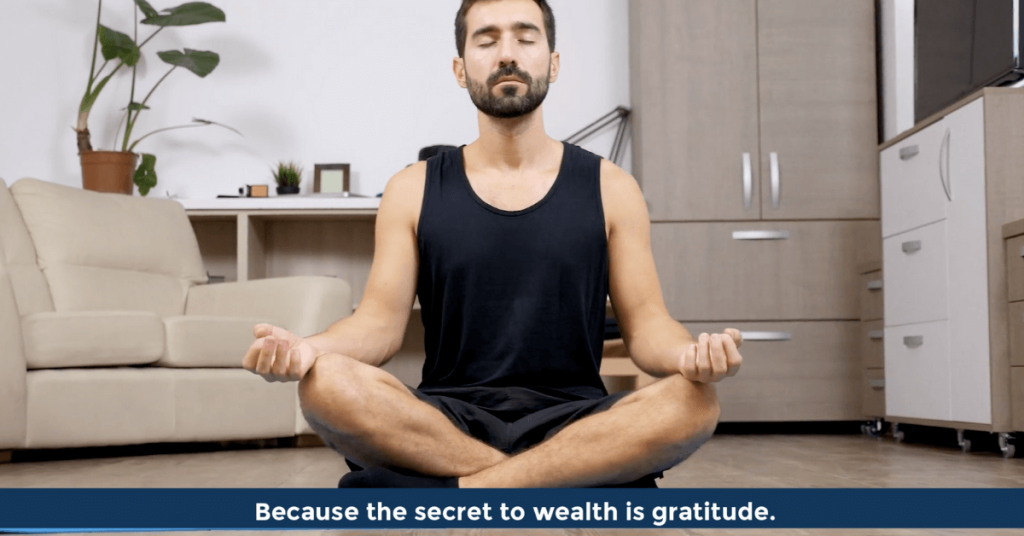 Because the secret to wealth is gratitude.
And then I read aloud my powerful affirmations.
Later, during breakfast, I consume videos on topics that improve my skills.
And I also read the newsletters to which I subscribed.
These newsletters are a quick daily overview of my interest in:
Entrepreneurship,
SEO up-to-date news,
Self-growth, etc.
I remember, there was a time when I watched morning live CNBC TV.
But I froze it completely as I realized it doesn't deliver the skills that I needed.
So after The Doer Morning Routine, the second step that I call is…
2. The Doer Success Writing Planner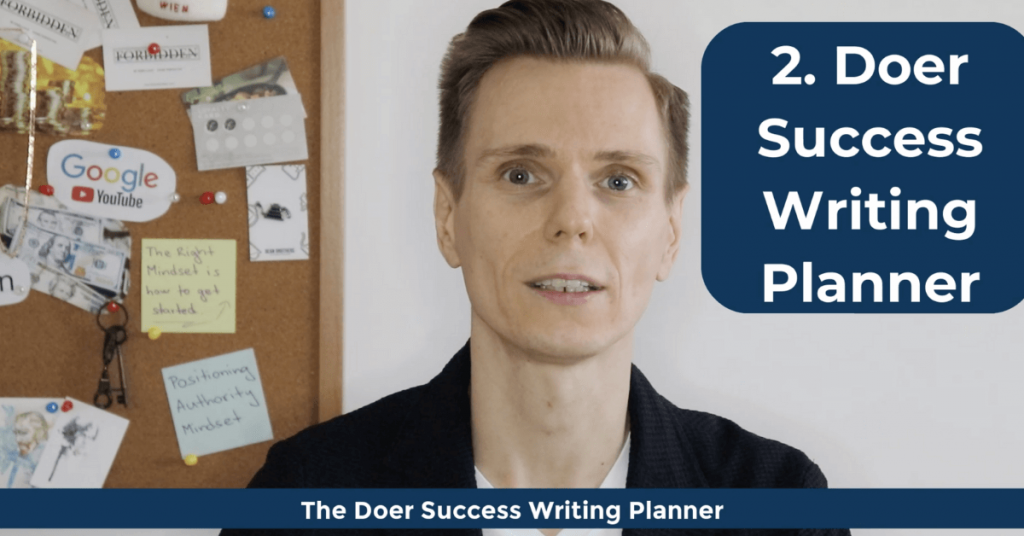 Believe it or not, this step has helped me exceptionally develop a growth mindset.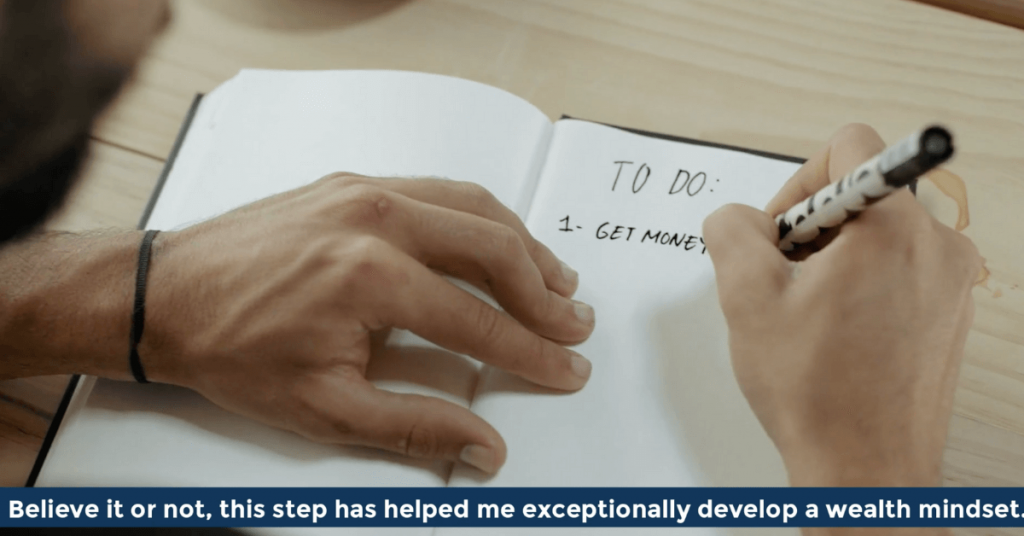 And I want you to implement the same.
For that reason, I can't emphasize how important this is and I can't imagine my morning without The Doer Success Writing Planner.
It helps me to hit daily, weekly, monthly, and yearly goals.
How's that possible?
The truth is, I've tried many layouts of various planners or notebooks.
But two years ago I found a particular brand called WinPlanners.
Would you like to know at least one thing that I love about that planner?
Here is a powerful thing.
Originally, in the planner, you can find four small icons for every day.
The first icon is a glass of water that reminds you to drink water and eat properly.
The second icon reminds you to relax and stay calm.
The third icon is the heart that reminds you to stick with your exercise routine.
And the fourth icon is a book that reminds you to continuously learn, think and grow.
But I added three more icons in order to start getting ahead.
These additional three icons remind me:
I might share more about this notebook later in detail…
But now, the third step to becoming a Doer is…
3. The Doer Laser Beam Focus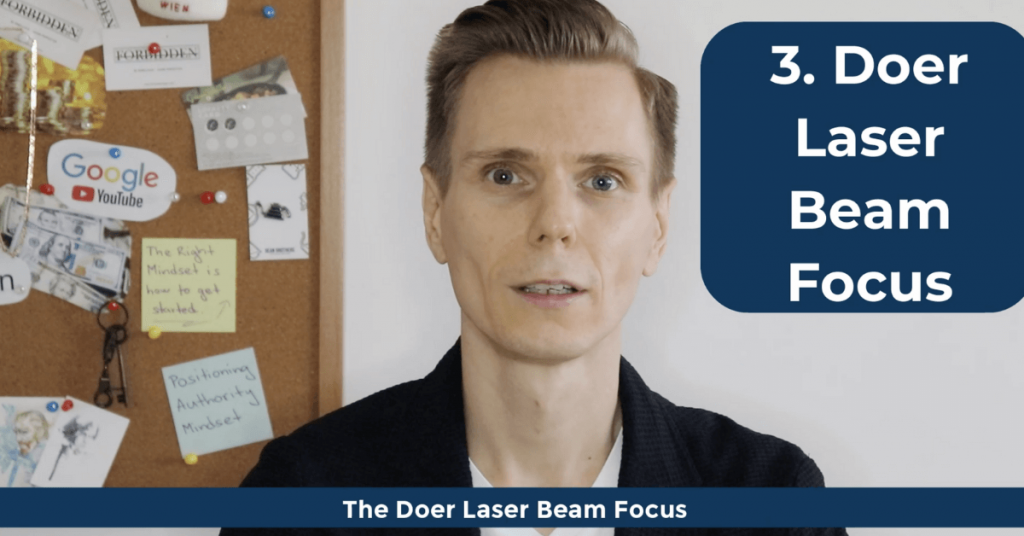 Whether you work for your employer or a couple of clients, keeping a focus on your strategies and tactics is crucial.
And here is what you can do along with your Doer success writing planner.
Write your daily priorities in your planner.
But first,
This technique is absolutely mind-blowing.
It's called the Eisenhower Matrix.
But for now,
I want you to stay laser-beam-focused on the urgent tasks that will lead you closer to your goals.
And once you produce such a productive morning performance, the fourth step is…
4. The Doer Healthy Lunch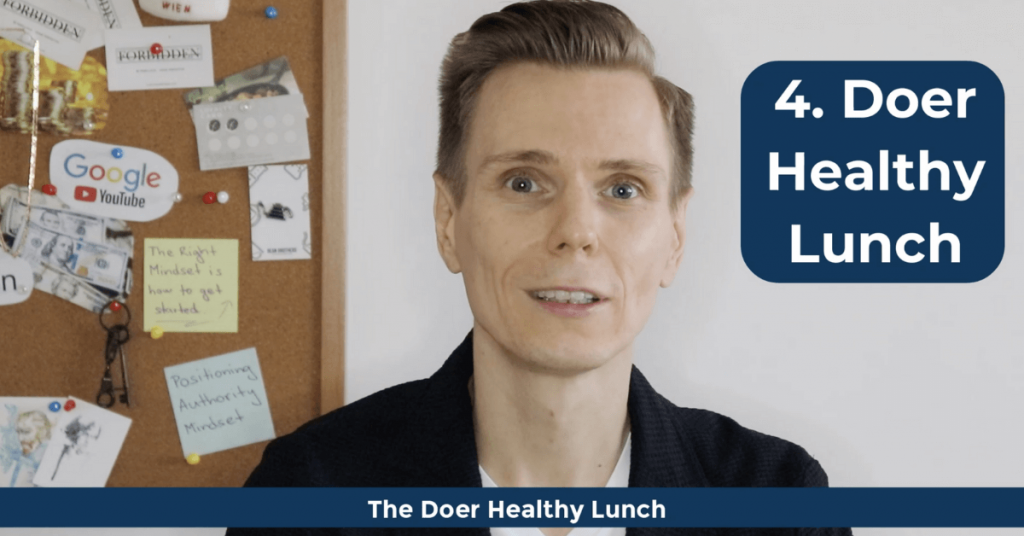 You can't focus a whole day, that's impossible.
After that you will recognize your brain operates much efficiently.
Unchain yourself from your laptop and go out or eat your prepared food where is a calm environment.
What works for me during lunchtime, I like listening to an audiobook or a course to consume new skills.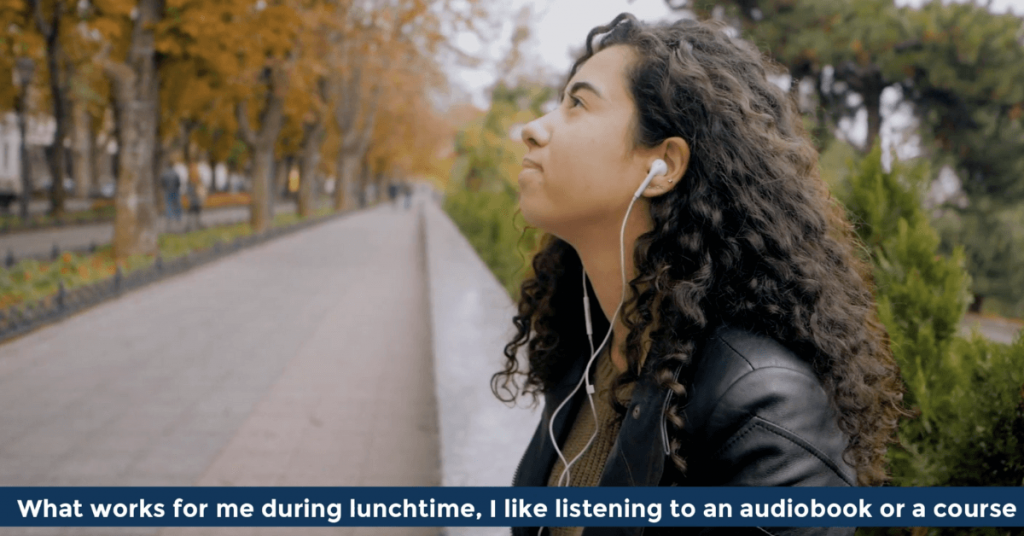 Or it can be to deepen and broaden my current skill.
And this brings me to the fifth step…
5. The Doer Immersion Time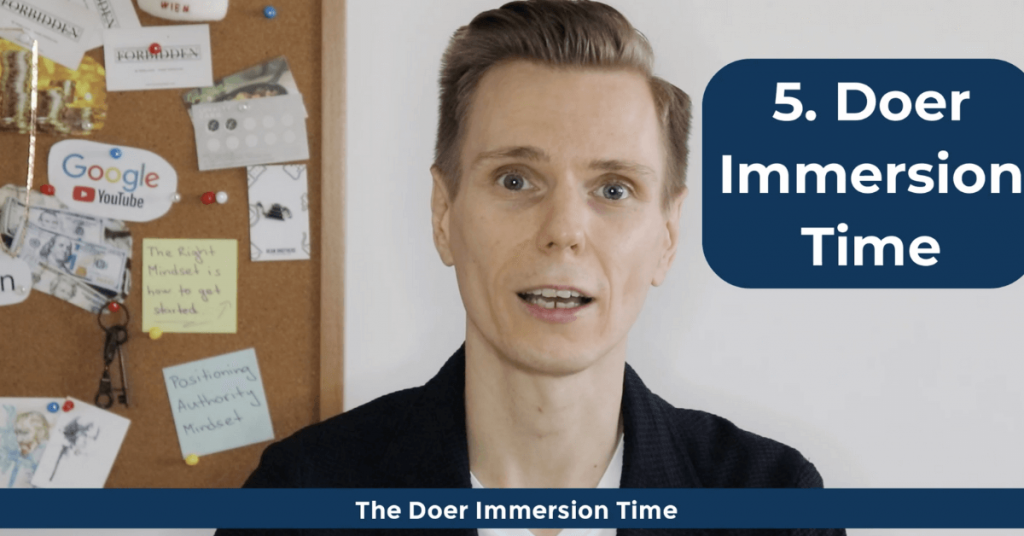 Many people feel after lunch tired because of the food they consume.
But this is not your direction because you become a Doer.
And I want you to implement this afternoon immersion time in your daily working schedule.
Then come back and let me know in the comment below whether it works for you.
Now, what makes me immerse?
After lunch, it's usually my two to three-hour productive time.
I immerse myself in urgent tasks only and try to execute as much as possible.
But it doesn't mean I only spend time on execution.
Sometimes, I have to evaluate some deals, make an investment decision, or perform research on the topic that is urgent to accomplish.
And all these activities are laid out in my Doer success planner and work well because I keep traction on them.
But you may ask.
Do I accomplish all activities at 100%?
Of course not but the majority of them.
Because I've learned over time to not overload myself.
Instead, I just really prioritize what's urgent to do by myself, what I can leverage, delegate and what to avoid.
The sixth step of becoming Doer is…
6. The Doer Thinking Time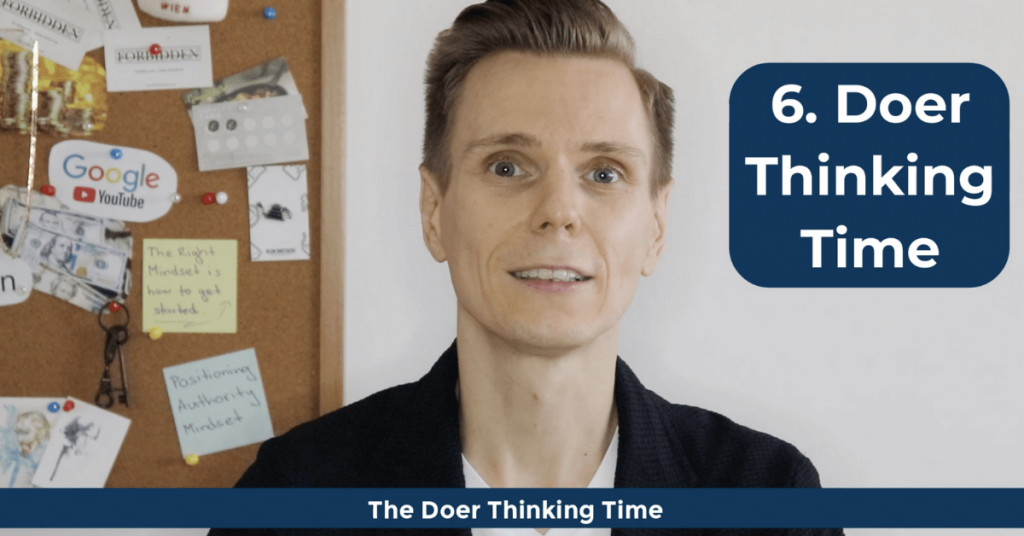 After immersion, I go walking a while.
And if not, then I grab some snacks and just think.
Basically, it empowers me to sink into my thoughts and come up with a new direction.
And similarly, I want you to implement thinking time that needs to be part of your journey to becoming Doer…
Step number seven is…
7. The Doer Net Worth Time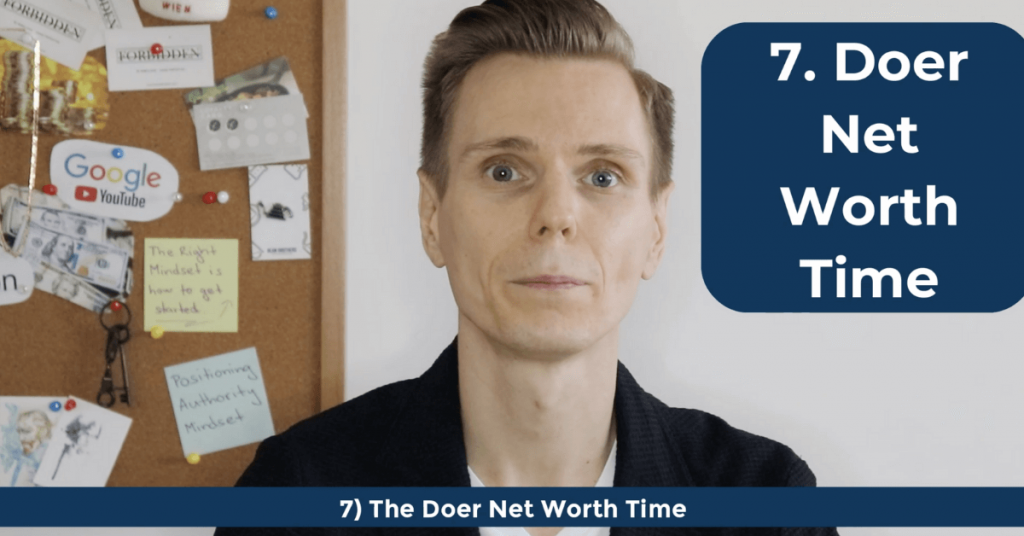 You know this saying,
I couldn't have got it for so many years, but since leveraging other people's time, it clicked in me.
But now during a global pandemic, it is tough to socialize, and it's safer to keep education and communication online.
However, once this time is over, I recommend surrounding yourself with other Doers only.
Because think about it this way.
If you hang out with dreamers, what will happen?
Tons of empty promises and thoughts without taking action.
I used to be the same but I disconnected from this group of people.
Right now, I prepare a strategy to go out again and meet more people to build a network.
But again, during a global pandemic and without going out, I rather apply the following step…
8. The Doer Evening Time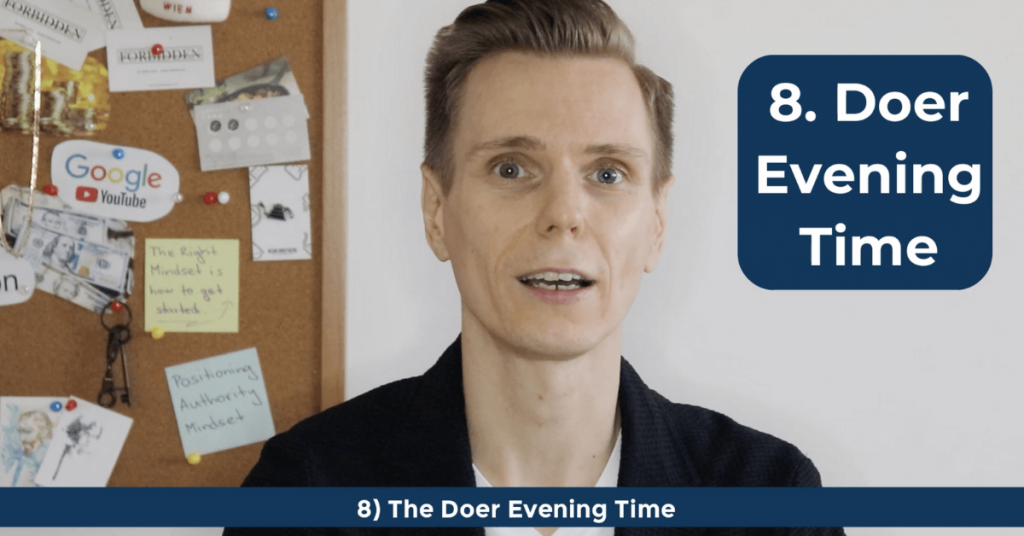 It's a great opportunity for you to interact more with your spouse, kids, family, and relatives.
I use this time to spend with my wifey to eat dinner and talk.
Or sometimes, when she is at work, I work on the optimization of my personal brand Pat VC.
Because life is to short to waste our precious time…
And finally, the last step…
9. The Doer Reading Time
Before you fall asleep, let yourself sink into other people's experiences and knowledge.
After nine o'clock, I grab a book or listen to an audiobook.
For me, it's time to gobble up knowledge of wealthy people, their millionaire mind and their rules of wealth.
Because of this way, I surround myself with their mindset and learn from their growth.
And as you know, on my channel, I review books that changed my life.
You can find those reviews in the playlist which is called Execute 7 Powerful Book-Ideas.
Time To Take Massive Action
So, to conclude this article,
I encourage you to avoid morning scrolling through social media and messengers.
And stop completely wasting your time on personal weaknesses and doing what doesn't work.
It's the most damn thing you can do.
Remember this:
Instead, focus on your personal strengths and the value of time.
Now you tell me,
What's your morning routine?
When is your immersion time?
Which Doer's step are you going to implement today?
If you take it seriously, write in the comment the word DOER to show us that you want to prosper.
Lastly,
Click HERE to subscribe to our growing Doer's community newsletter.
Because I want you to discover the best version of who you are and who you want to become.
I look forward to talking to you soon.