Today, I'm going to explain to you how to find and know your value as an employee or business owner.
In fact, it took me several years to find the purpose of these values.
For that reason, I want to talk about it now.
So now let's get started …
How Do Your Determine Your Value?
In the beginning, it's important to know that…
Your value is more than the salary you earn or the income you get out of your business.
So what is the real value?
What's the answer?
Listen:
"YOU are a real value. It is YOUR personality who YOU are every day, and who YOU want to be tomorrow."
Is it clear?
Because now let's refute possible limiting beliefs and talk about a professional career.
Find And Know Your Value As an Employee
Firstly, on the one hand, if you are an employee, don't think that salary is fixed and has a certain perceived value.
You can definitely find the average salary range associated with your job title on many career websites but don't let it fool you. Because there isn't an exact formula that would say how much you can earn.
And if your perception is that your salary for the same job titles is rewarded in the same way, you are wrong and it is not true.
Want to know the reason?
It is actually the value you bring to the table.
For example, if your position is a CEO of the National Bank, your value is different from a position as CEO in a local coffee shop.
Or position such as Digital Marketing Strategist in the local marketing agency vs Financial Services industry.
Guess who brings more value to the table?
I will let you think about it.
But again, it's not rewarded with the same job title, but it's about the industry and your value.
Remember what Elon Musk said:
"You get paid in direct proportion to the difficulty of problems you solve."
This is a profound truth.
Because if you work in a corporate or in a fast-growing industry that is disrupting today's world, guess who is solving bigger problems?
Do you get it now?
Questions To Ask To Find Your Value As an Employee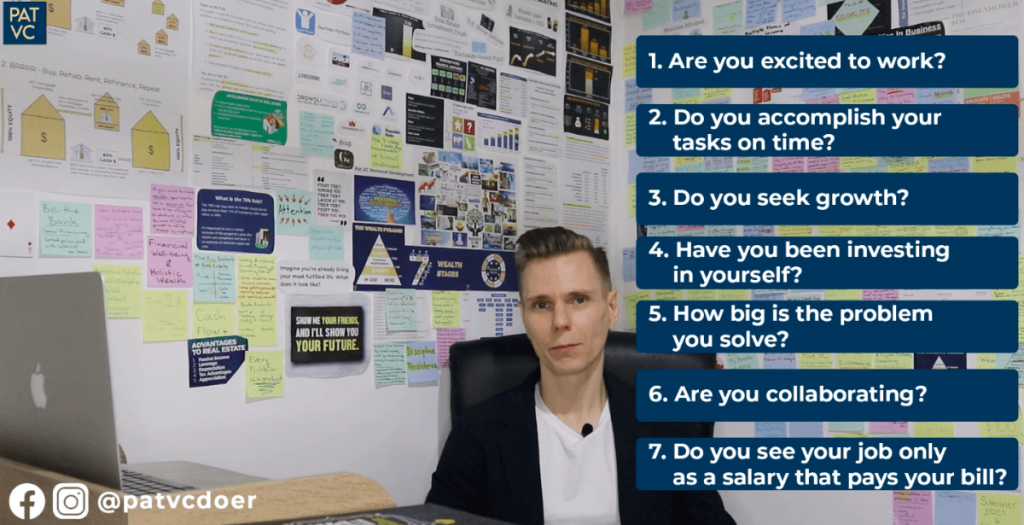 So when you work as an employee, the good news is to make more money, many things can be under your control to find and know your value.
It means asking the following questions.
Are you excited and motivated to work?
Do you accomplish your tasks on time?
Do you just watch hours, try to get by, or do you seek continuous growth?
Have you been investing in yourself to look for new innovations?
How big is the problem you solve?
Are you collaborating with teammates or avoiding them?
Do you see your job only as a salary that keeps you pay your bills?
And many more.
You see, these are questions that will help you find and know your value.
Because when you find it, it fulfills you.
Thanks to this, it makes you feel better about your personality, and most importantly, about your purpose to find a better version of your future self.
So keep in mind that as an employee, don't prize your value solely on the basis of your rewards, such as salary or paycheck.
Instead, try to get attention and always add value.
"Be a Doer, proactive, reliable, and prove you can be a leader."
In this way, you pave the path and the value to live an abundant life.
Know Your Value As a Business Owners
Secondly, on the other hand, the same applies to business owners.
For example, let's imagine, you run a one-man or one-woman digital consulting agency and offer packages for potential clients.
So your perceived price is backed by value creation.
It means the value that you put to create a framework, system, or process that helps you and other people.
Now, the question is, how much value can you provide?
Let's break it down into two deeper questions.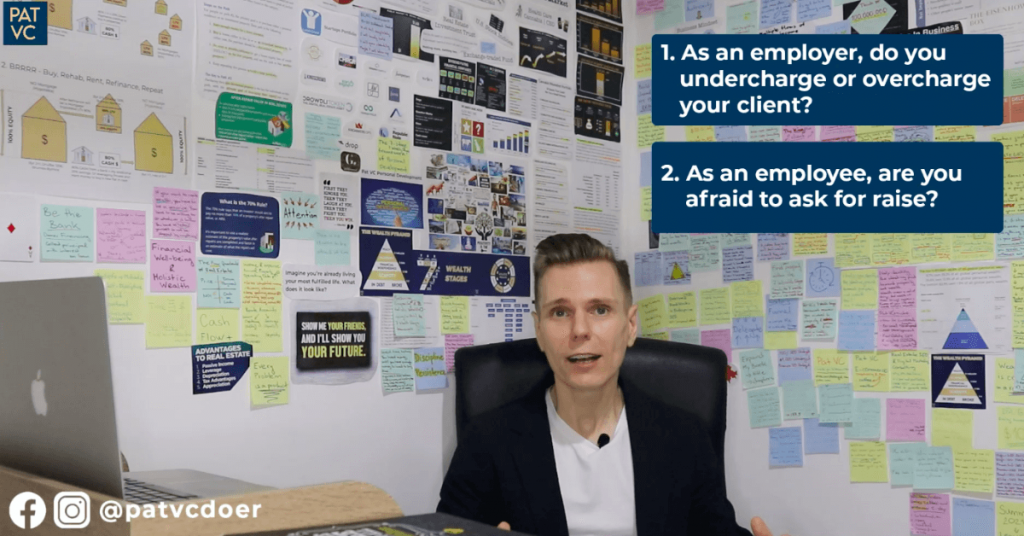 First, if as a business owner do you undercharge or overcharge your clients?
Second, if as an employee, are you afraid to ask for a raise?
I can tell you that answering these questions is difficult to find for many people because they lack confidence.
The good news is that it is learnable and it is only about testing or trying…
Now It's Your Time To Find And Know Your Value
In conclusion,
to find and know your value, your goal as an employee or business owner is building highly valuable hard and soft skills, which I call elite-income skills.
And it means constantly increasing value, maximizing your income potential to live an abundant life.
So keep in mind this:
"Whether you are the founder, business partner, owner, or employee, the most important thing is, you will get rewarded based on the value you provide."
Does it make sense?
Now, what was at least one golden nugget in this blog post you learned?
What do you think your value is?
Leave us a comment below.
Remember, at the Pat VC 7 Wealth Stages framework, we are here to show you the direction.
In the end,
It is up to you to unleash your revolution and stand out from the average and ordinary life.
Because you want to become a Doer.
And you want to build a better life, which means holistic wealth.
Thanks for reading or watching a video.
Click HERE to subscribe to our growing Doer's community newsletter.