A few years ago, I asked myself the question of how to get motivated to work.
That time it was an illusion for me because of hanging out with the wrong people.
And I thought that motivation is natural, and we are born with that.
But I was obviously wrong.
Until I came across two quotes.
The first was Zig Ziglar quote.
And the second was Ivo Toman quote, who has studied motivation for over 20 years. He is from the Czech Republic and he said:
As a result, these two quotes have triggered in me a deep interest to understand how to get motivated to work.
Introduction To How To Get Self-Motivated
The next trigger was to understand the difference between self-motivation and self-discipline.
What I learned and what life taught me is this.
But to be self-disciplined, you need self-motivation.
Would you agree?
Besides that, there is an inner or intrinsic motivation that arises from within.
And another is outer or external motivation that represents a specific goal that you can envision.
Simply said, you need to learn and apply these secrets, tricks, strategies on how to get motivated to work.
For that reason, I need to talk today about it.
And I feel so energized and motivated while talking to you.
Because it fulfills me to help you overcome scarcity and recondition to prosperity within the 7 Wealth Stages framework.
After all, seven stages guide you towards holistic wealth and financial well-being.
With this purpose in mind, let's talk about how to get motivated to work and build a wealth mindset in 7 steps.
7. Embrace The Fact That You Must Learn How To Get Motivated To Work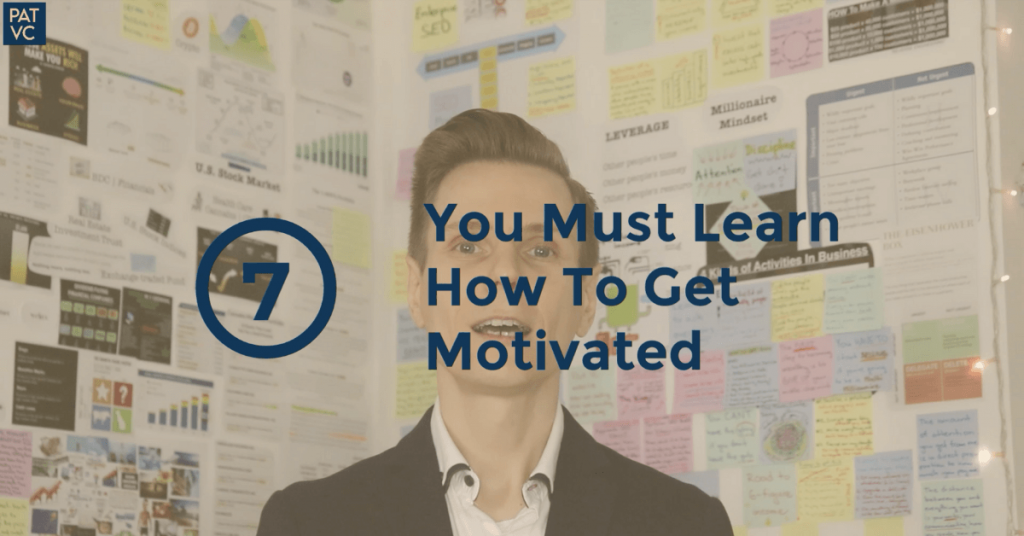 The bad news is, no one is born with motivation.
The good news is, it is learnable.
Look, if you wait for a miracle to happen, it won't happen.
If you continually watch useless videos or tv series instead of reading books, your motivation will always stay flat and shallow.
Because…
Would you agree?
Stop being lazy, because lazy people aren't Doers.
Idle people aren't Readers, Creators, Leaders, and not at all Achievers.
So if you are stuck, get off your butt and make the first move to invest in yourself.
But by the way, you already began this step, because you are reading this blog post.
And you are obsessed to become a Doer as well as you strongly desire to build holistic wealth.
It means you started somewhere, and that's an excellent sign, but it is not enough.
Unless you can be crystal clear about the following step…
6. What Is Your Purpose To Get Motivated And Why Do You Want To Do It?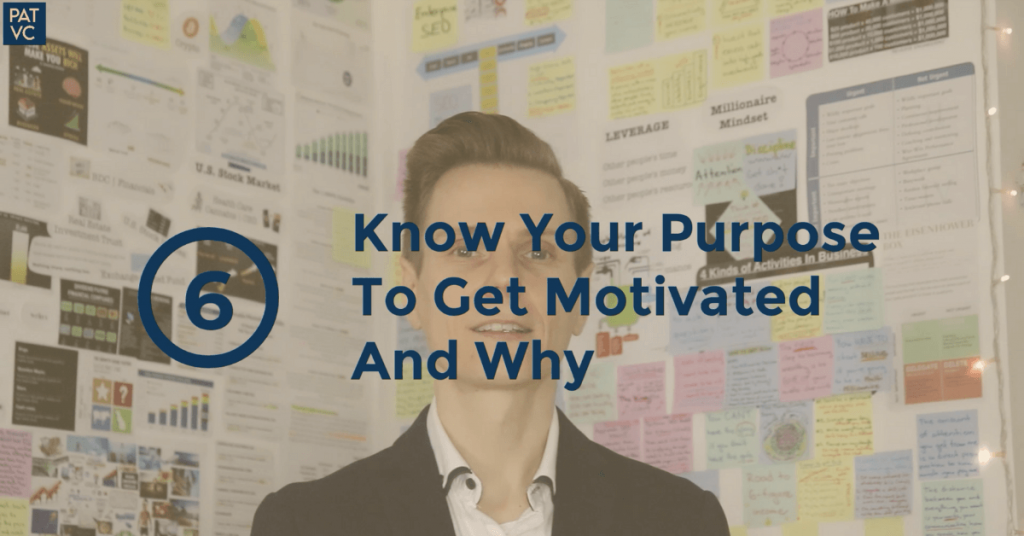 Are you looking for security?
Then this is not the right place to be.
Because Pat VC's community of Doers isn't in line with what society requires and what you have been taught until now.
Let me remind you why you are here.
You are here because you want to succeed.
But success is a never-ending destination.
Because success has many levels and the utmost level can be described as the top of the wealth pyramid.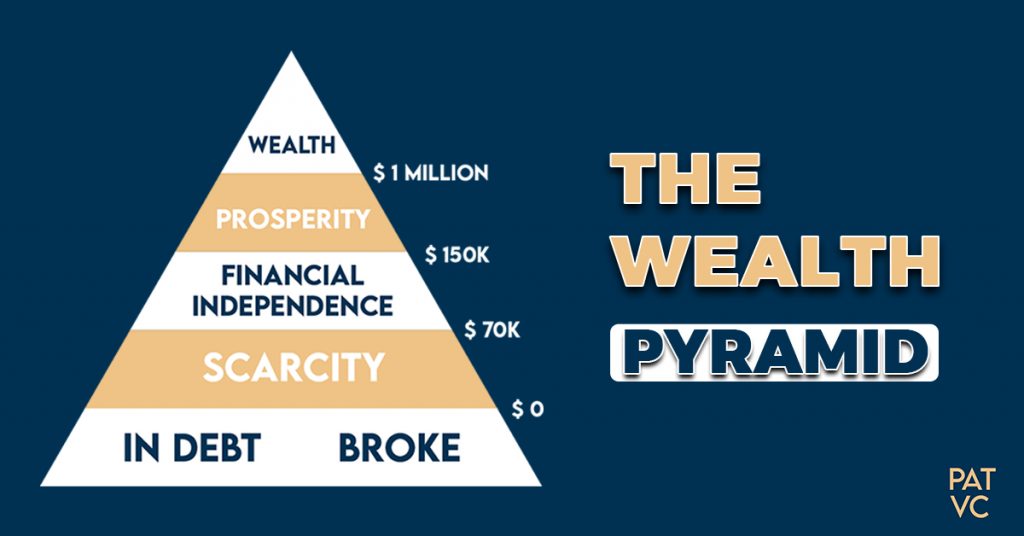 Would you agree?
Now, to climb there, you have to stay motivated and break down your path.
It means:
The second part is setting targets. Because without targets, you will only shoot blindly in the dark.
The next and most crucial part is to do your math. It means finding out how you want to achieve that target. Remember, numbers NEVER lie!
Then you must have a deadline when to hit that target.
And lastly, take action. Be a Doer, proactive, and daily motivate yourself.
Because when you know what's your purpose, and why you want it, it motivates you.
Would u agree?
5. The Power Of Visualization Triggers Motivation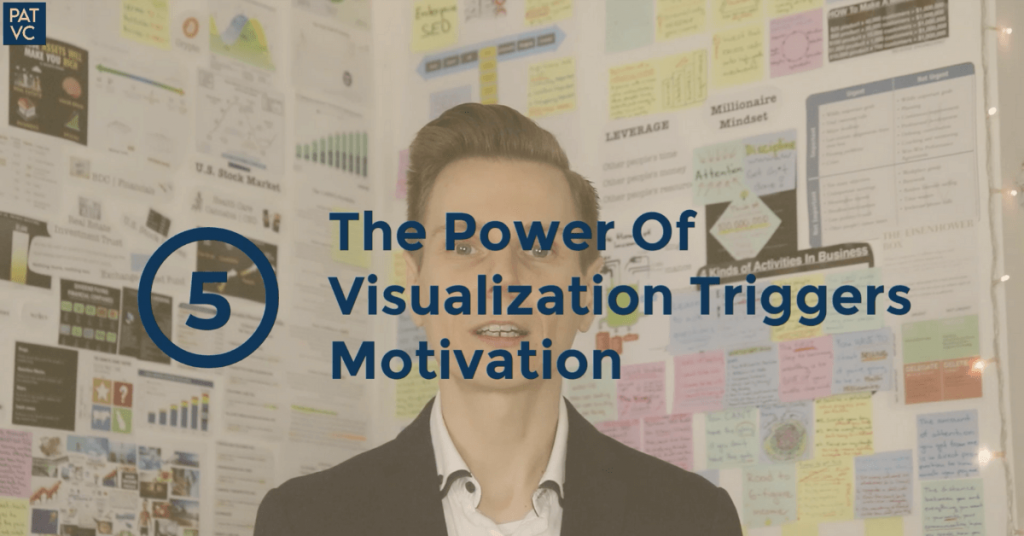 In fact, this was one of my breakthrough moments to get motivated to work.
To explain, building momentum and new habits can take anywhere from 18 to 254 days. But the average time for a habit to become automatic is 66 days.
In other words, when you start with the power of visualization, it will ignite your momentum.
So I want you to create a vision board.
Because when you visualize, it allows you to imagine the future.
Remember what Napoleon Hill said in the book Think and Grow Rich.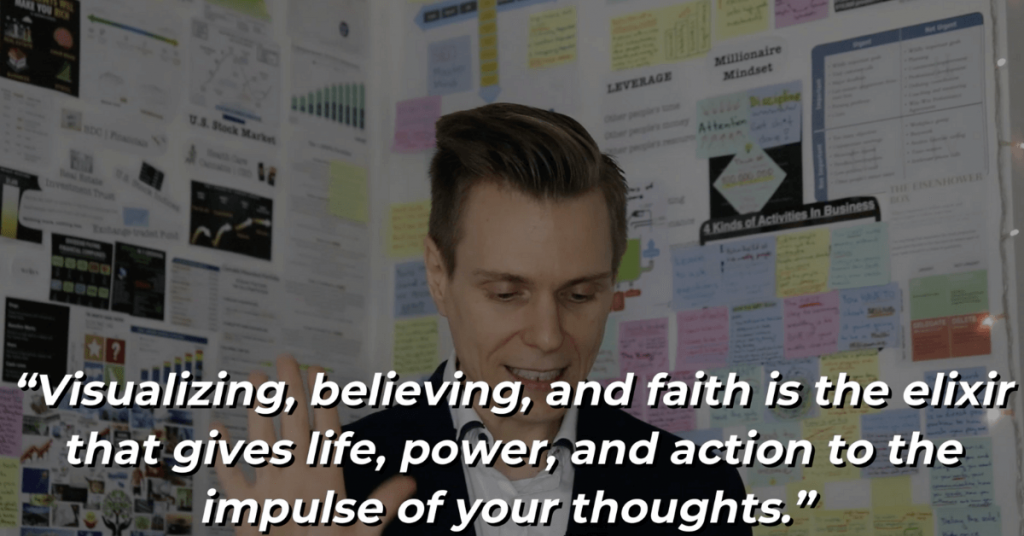 "Visualizing, believing, and faith is the elixir that gives life, power, and action to the impulse of your thoughts."
It simply means you have to believe in yourself!
The vision will motivate you so much that you become obsessed by looking at it daily.
But most importantly, you have to force yourself to go for it.
That's why the next step.
4. Force Yourself To Get Motivated To Work And Force Your Body To Take Action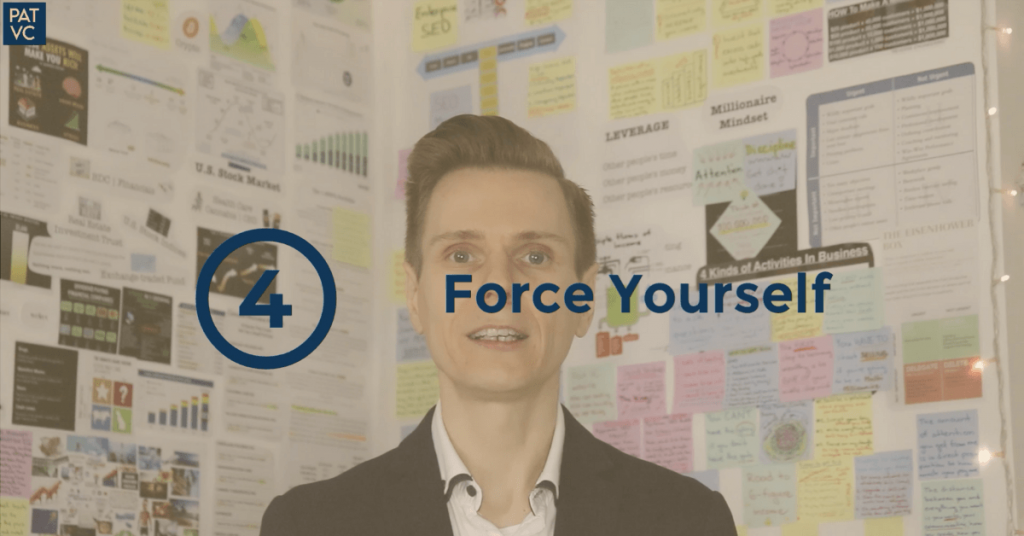 Listen,
Always remind yourself that nothing can stop you.
Look,
I understand if you watch some videos of highly successful people or achievers. And it can discourage you because you're too small against them.
But they also had to start somewhere and motivate themselves to take incremental action.
Do you remember the earlier sixth step?
Remind yourself continually, what's your purpose.
It is about setting a goal, target, and working on it daily.
Do you want to know the secret of how to force yourself and get motivated to work?
Turn everything OFF.
The entire universe must disappear around you, and you force yourself to execute. This is the utmost secret to get things done. And it is called self-discipline.
Because motivation equals discipline that keeps you grinding and hitting your targets.
Would u agree?
And in order to hit your targets, you need to be a master of self-management…
3. Plan Your Days, Weeks, And Months – Get Started Immediately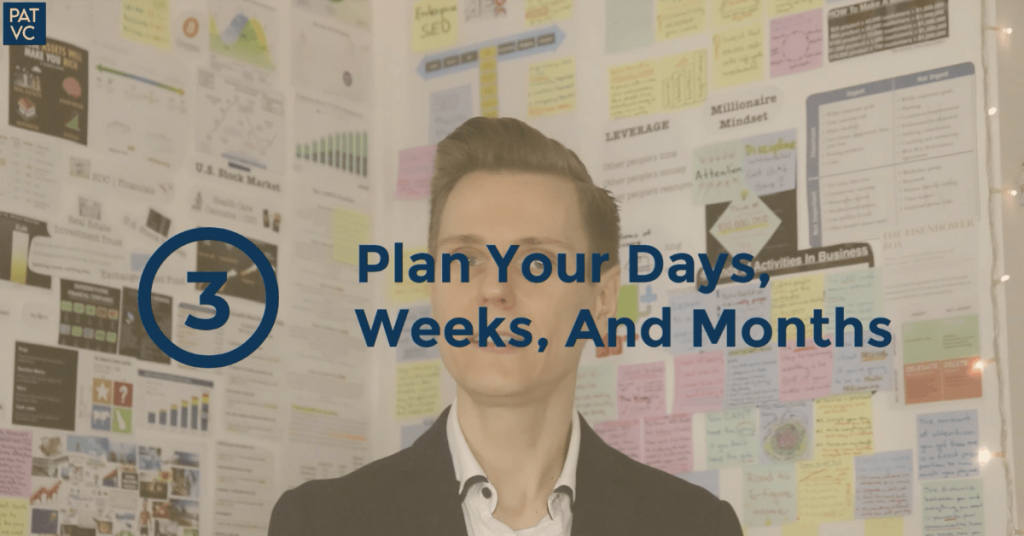 Do you want to know the truth?
Why are you unmotivated?
Because you don't have a compass.
And you miss the course of your voyage to your target destination.
You lack direction.
So getting there, you need a plan.
Listen, you have to sit down and fill your calendar with urgent and important tasks first.
You need to structure your day and make time for yourself because time is the most valuable commodity you have.
No one can steal it from you and I talked and wrote about the value of time.
And when I study successful entrepreneurs and CEO's biography, all of them plan their day ahead.
It happens usually in the evening and I am not an exception.
I talk about it countless times. Use the Eisenhower Matrix to help you organize your time. It's so a powerful tool that has changed my life.
So create the list and plan tasks for:
next week,
and next month.
Restructure them as you go and don't give up.
Motivate yourself and never forget what your purpose is…
2. Motivation Is About Expanding Your Strengths And Learning New Skills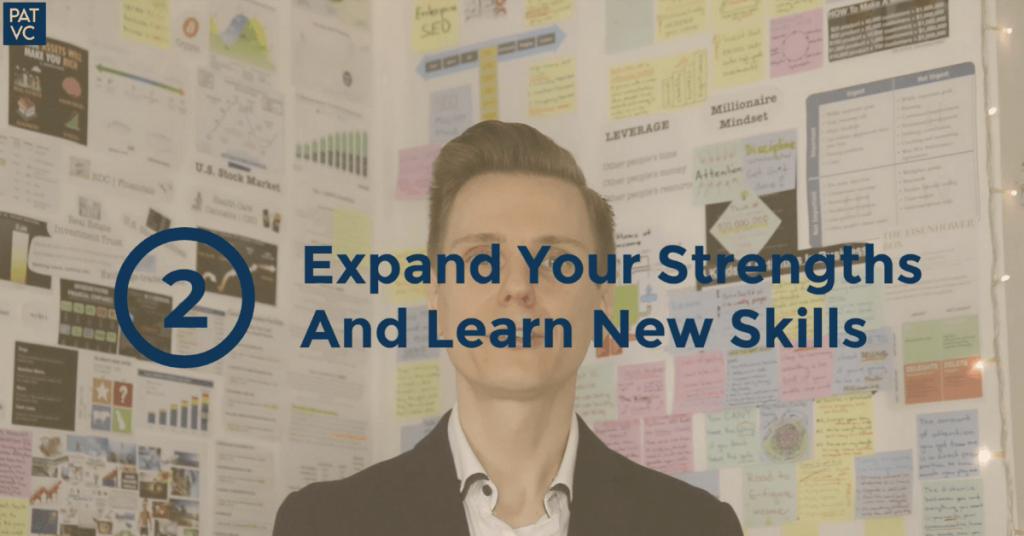 At Pat VC, we believe that highly valuable skills are the entryway to prosperity and holistic wealth.
And we call these strengths Elite-Income skills.
For example, in my case, I've built my career on Elite-SEO skills.
But today, with my mentors, I develop entrepreneurial and business skills.
And you will see them on our website sooner or later under the category Elite-Income skills.
Because the marketplace is hungry for them, so you need to develop elite skills to differentiate yourself and not be average.
In addition to that, my focus is on reinforcing soft skills such as:
empathy,
integrity,
communication,
adaptability,
teamwork and so on.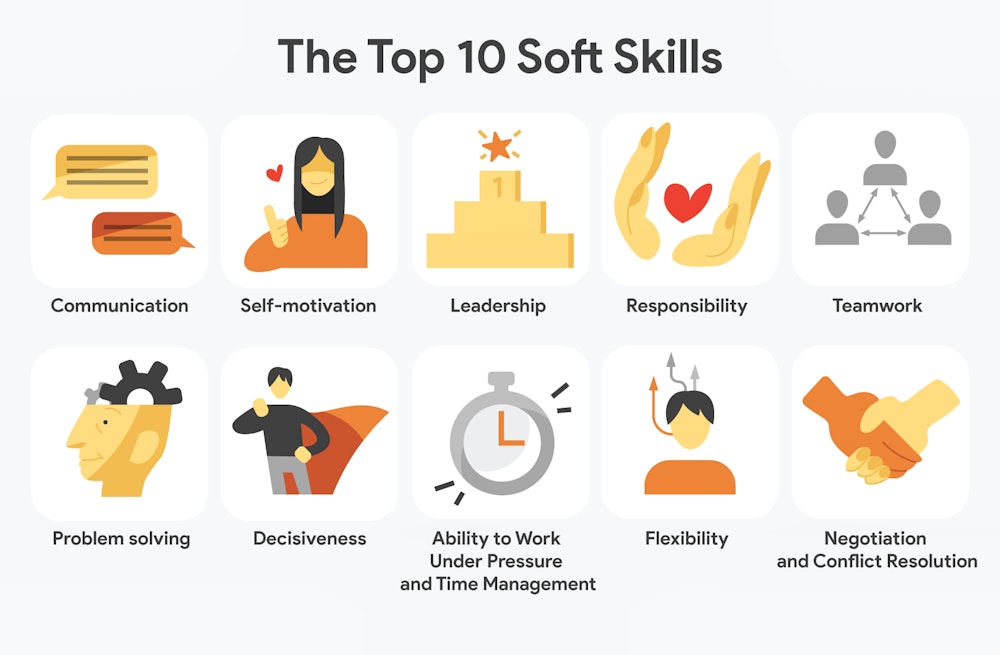 Your Motivation Equals Your Market Value
You probably know the truth.
People doubt you when you grow…
Your parents, colleagues, relatives, your fake friends, maybe your boss too.
After all, in their eyes, you must be obedient sheep and listen to what society says.
Screw it!
This is not you.
Because your motivation is to increase your market value, get status with recognition to open the door to the wealthy elite and holistic wealth.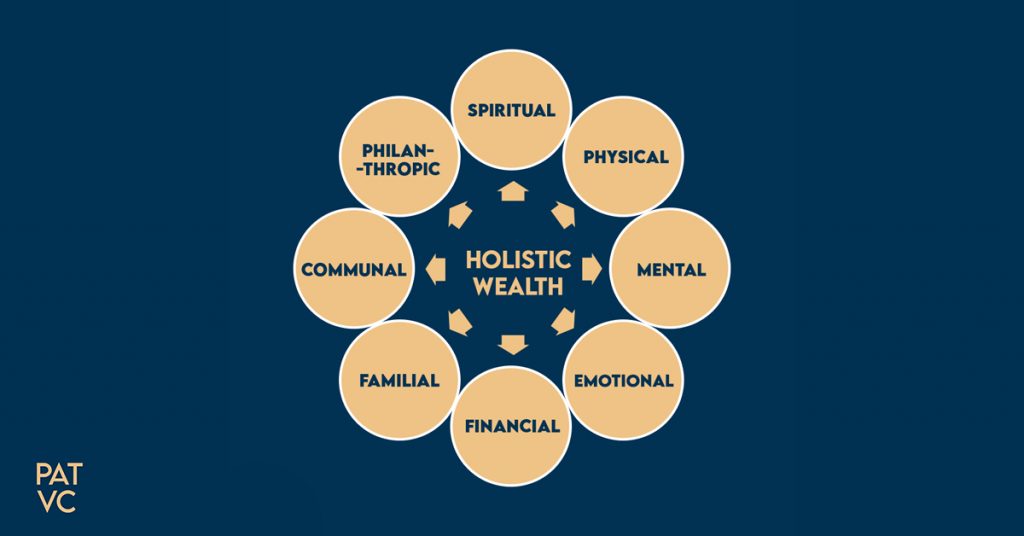 Would you agree?
Listen, this path is clear to me and no one can stop me.
And once you've raised your recognition along with your personal strengths and Elite-Income skills, you can stack up another skill on top of it.
In other words, you need to motivate yourself to expand and not contract to climb the wealth pyramid.
For that reason, two of the 7 Wealth Stages are focused on elite and leveraged skills.
The 2nd Wealth Stage: Elite-Income Skills – right now and what has brought me here Elite-SEO Skills.
That's the power of motivation to grow, that's the journey you have to go through if you want to build holistic wealth.
And it leads me to the last step on how to get motivated to work.
1. Associate Only With Positive People To Pump Your Motivation Up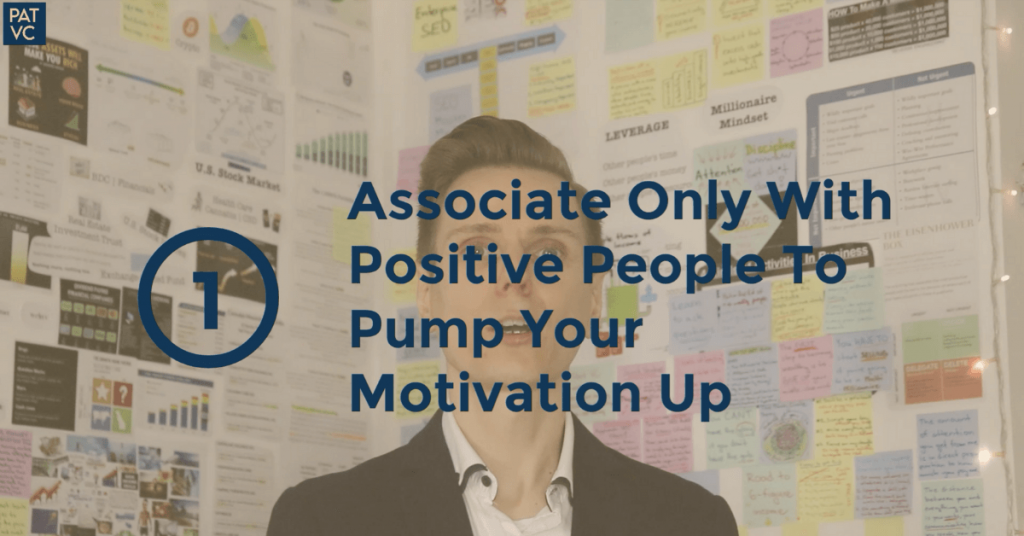 Doers who wake up every day and ask a question…
How to make the world better and how to be stronger than yesterday?
In fact,
when people ask me about my days, weekends, they can't believe that I spend so much time on personal finances, investments, and creating content.
They think that I'm obsessed only with money.
But that's not true.
Our Pat VC's mission is to thrive within the 7 Wealth Stages to build holistic wealth.
And to understand the path, you need to surround yourself with a handful of people that have the same AND 10 to 20+ years ahead mindset WHO are entrepreneurs, business owners, investors and multi-millionaires. 
For that reason, I pay two mentors or personal coaches to build my personality and climb the wealth pyramid.
So you too, you must spend time with them to get what you want. Because they have networks, contacts, and resources.
It other words, invest your time wisely.
Listen, if you have to, get a mentor.
It doesn't need to be in person. It can be through the power of books, online courses, YouTube channels, or close groups.
In fact, I learn this step so much.
And as I mentioned, I go deep with only two mentors.
Because again, the goal for me is to reach prosperity on the wealth pyramid and at the same time build holistic wealth.
Every day when I wake up, I ask this motivational question and I want you to ask the same.
Ponder on it…
Now Is Your Turn To Get Motivated To Work
To conclude this blog post,
Again, your self-motivation is really like taking a bath; "If you stop doing it, you begin to stink!"
So pay attention to these seven steps, implement them, build your habits, and you should recognize results within 66 days.
If you should remember just one thing from this video, get this.
Would you agree?
Now tell us,
How do you get motivated to work?
Maybe you have your own steps to share with us?
Leave us a comment below on what your thoughts are.
And if you're still in doubt, I want you to do the following steps to motivate you.
Doerly pat the Like button to give our video more exposure, support, and love from the YouTube algorithm.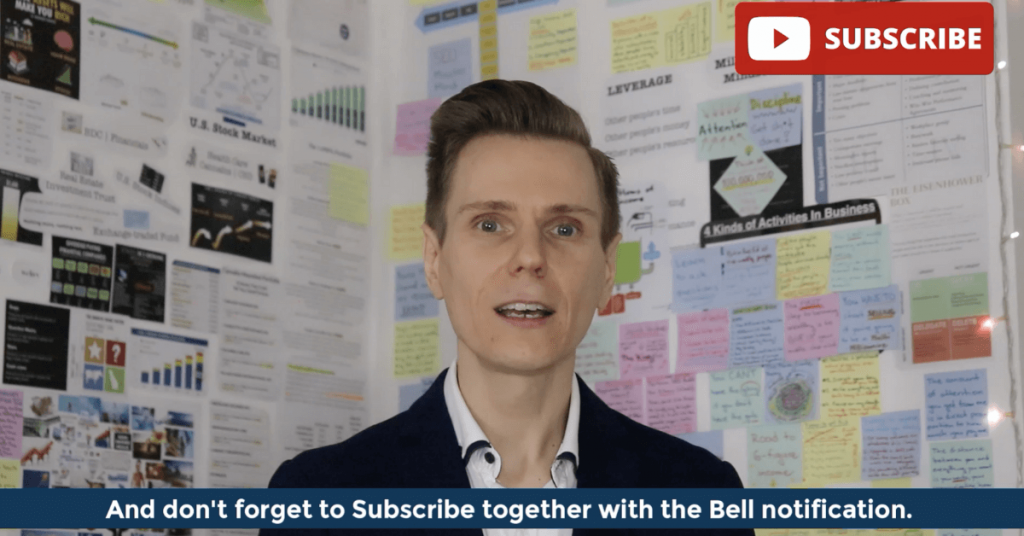 And don't forget to Subscribe together with the Bell notification.
Because every week you will receive one motivational strategy that will help you overcome scarcity and recondition to prosperity within the 7 Wealth Stages of life.
Lastly,
Click HERE to subscribe to our growing Doer's community newsletter.
Because I invite you and I want you to become a motivated Doer.
Thanks for watching and I will see you next week.