Sometimes all you need to understand is that there are three types of change in your life with important decisions you need to make.
This means that understanding them and learning to adopt them will help you cope with your adversity.
In fact, life is itself a big change with countless opportunities.
For example,
You might seek stability. It means just having an average-paying job, buying a house with a 30-year mortgage, and raising a family.
Or you might step into intrapreneurial or entrepreneurial life and seek recognition, social status, and wealth-building strategies.
Maybe you struggle to find clarity and purpose or some type of inspiration that would trigger the movement of change you are facing right now.
In fact, whatever change you face, you look for a solution to control destiny and avoid adversity because you think it could solve living an abundant life.
So what is that solution?
The only way to find it, adopt it, create better health, a wealthy lifestyle, and control it, is to understand 3 types of change.
With this purpose in mind, let's talk about 3 types of change to embrace and control your adversity to live an abundant life.
Types Of Change #1 – Change For The Better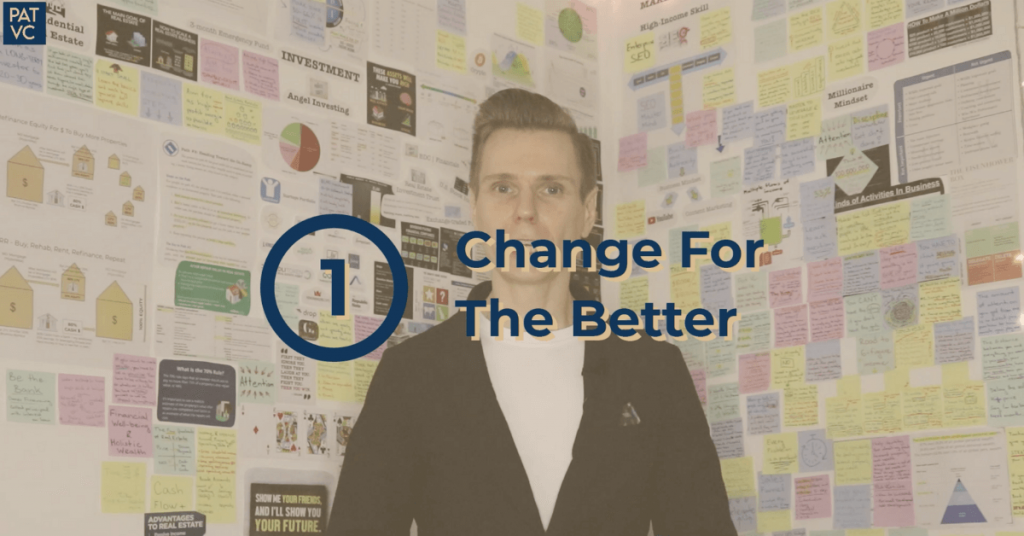 The good news is…
Simple, isn't it?
And the only limitation and prejudice is in your mind.
It means, when you face several types of change for the better, you most likely won't delve deeper into their roots.
Because your subconscious mind signals that managing several types of change for the better is uncomplicated.
And you rarely project any dangerous scenario or conclusion that would go wrong.
Now, let's talk about a simple example of change for the better.
An Example Of Life Change For The Better
Imagine working at a company that relocates to another suburb of your city.
Until now, you have commuted to the office by train, which took about 45 minutes.
If you take the same transport to the new area, you would spend one and a half hours on the train.
At first glance, this may seem like a drastic change, but there is an opportunity in every situation.
Because you have been diligent in your personal finances, saved money, invested in assets that produce monthly drips, and you feel like now is the right time to buy a new car.
You feel so excited because of the following three reasons.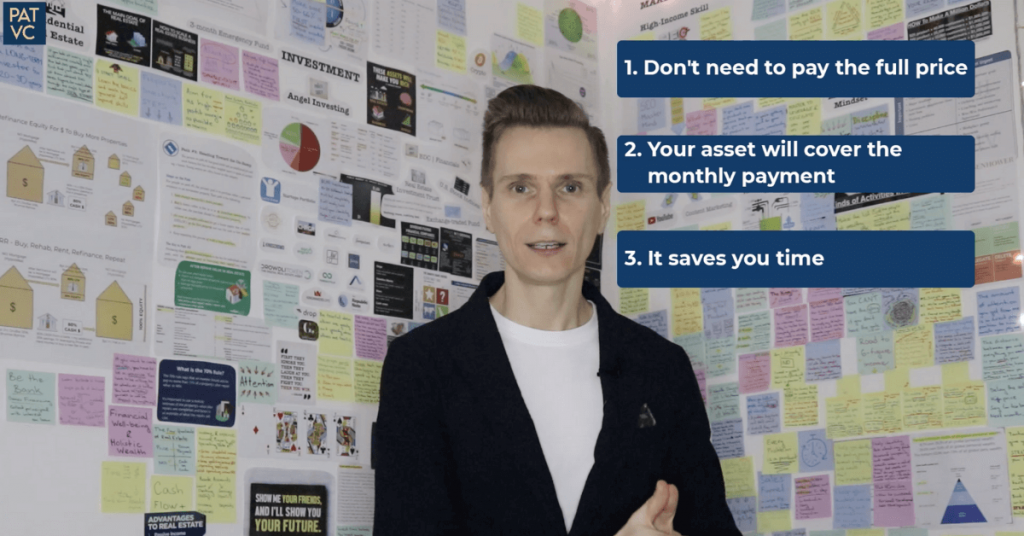 First, you don't need to pay the full price for a new car in cash.
Second, your income-producing assets will cover the monthly payment.
Third and most important, it is for you a change for the better because it will save you time. Now the ride will only take 20 minutes.
You see, this simple example is a change for the better.
It has a ripple effect that triggers other positive consequences.
Because when you learn how to analyze any type of change for the better, you might control your adversity with a positive outcome.
Therefore, I encourage you if you haven't gone through the 7 Wealth Stages framework, go to the beginning of these roots. It means first to develop your strengths and wealth mindset.
And when you realize the framework, you will face transformational changes for the better, which has a tremendous shift in your life.
Now let's talk about another type of change, which is…
Types Of Change #2 – Change For The Worse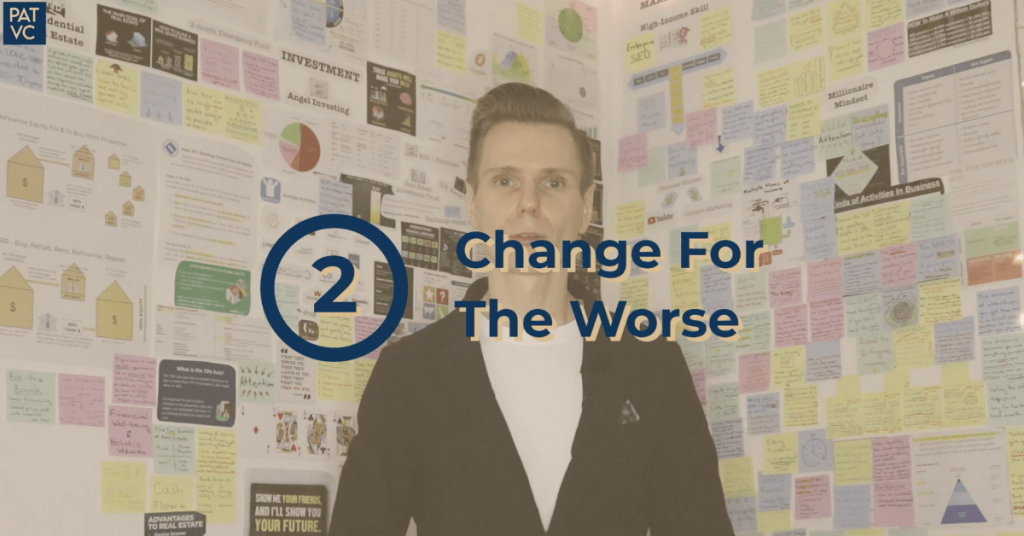 The truth is…
Because you believe that the coming cause can get worse and worse.
You begin to paint a picture in your mind with your own conclusion that your life won't be the same as it was.
But remember, what happened was not in vain…
You have to understand that the change that happened had some kind of meaning.
What it does is it pulls you in a challenging direction and it evokes a lot of negative thoughts. But when you sail through it, it will open the door to better opportunities.
Now, let's talk about a simple example of change for the worse.
An Example Of Life Change For The Worse
Imagine living in an apartment for a few years.
It's not yours, you rent it because you are a smart person who knows how to control personal finances and invest wisely only in monthly producing assets.
Either way…
One day, your landlord announces that you have to leave in 3 months because he has decided to remodel the entire building.
Well, on the one hand, you may freak out because 3 months isn't enough time to make a quick move for you and maybe for your family.
So you scout the market but can't find sufficient apartments in the same area, within the same price range, and in the same size.
Unfortunately, the market is in bad condition with supply and demand, so you have two choices.
First, either rent something slightly worse in the same area because you don't have enough budget to rent a better class property for now.
Or second, you reconsider moving to another area. But it would be for you worse because of your current office location and the team you surround with.
As a result, these two types of change put pressure on you because you have to make a decision within three months.
So you jump to the conclusion that these changes could be even worse because you're not sure how things will turn out.
On the positive side, if you move to a slightly worse apartment, you can save more money, invest in yourself, your business, or other income-producing assets.
And when the right better apartment deal pops up, you readily take action.
On the negative side, there are many uncertainties which I'm going to talk now about as the third type of change…
Types Of Change #3 – Uncertain Change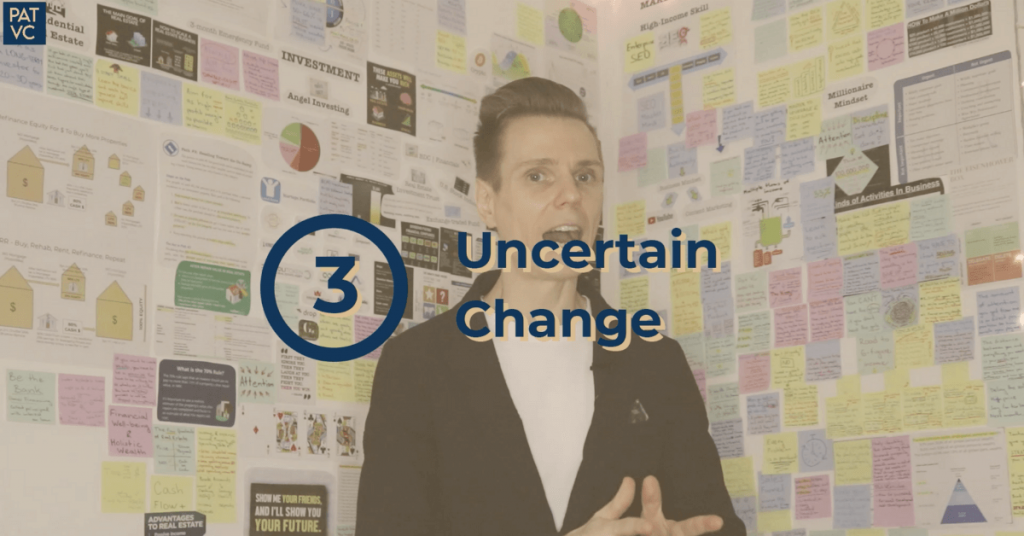 In fact, in your life, there are many changes that are uncertain in nature, such as a previous example.
But it all boils down to the fact on how you see that change, and most importantly how you control these changes.
It means,
And the only solution is to develop your emotional strengths.
Therefore, within holistic wealth is an emotional area that handles your:
inner motivation,
evolution,
career,
and your success.
In fact, if you don't develop emotional strengths, it could lead you to suffer.
And it would be tough to focus on your work or business.
So there are many life uncertain changes, and they can appear throughout all eight areas of holistic wealth.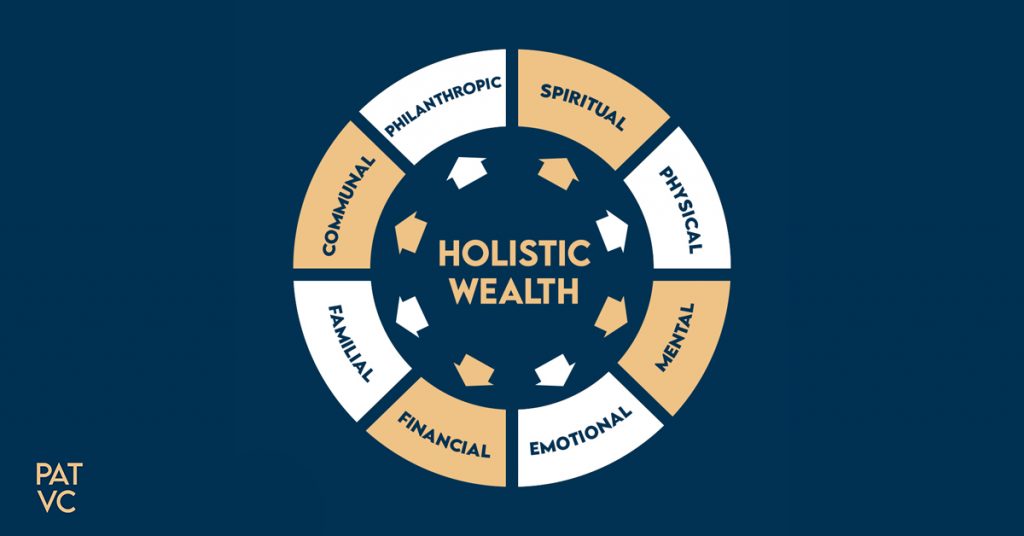 Now, as a simple example, let's talk about your professional uncertain change.
An Example Of Professional Life Change For The Worse
Imagine working at a corporate or large company where you face up to dozens of challenges and uncertain changes.
It could be your computer or laptop you use. You have to follow and adopt strict rules or cybersecurity policies and do not violate their rules.
Or another example could be this.
Imagine working in a restaurant and one day your manager tells you that your work will be replaced by an AI machine that will make food efficient, less costly, and 24/7.
By the way, this actually happens as there are plenty of AI learning machines implemented across hundreds of restaurants worldwide. But this is for another story…
As you can see, you are literally going to work every day with many uncertainties that can occur.
But don't worry, because every uncertain change isn't the end of the world.
And when you realize it, it can lead to better opportunities you don't know about yet.
Now It's Your Turn To Embrace These 3 Types Of Change
To conclude this blog post,
If you are affected by any type of change, it's time to understand yourself.
Whoever you are, listen to cautiously and remember this.
And trust me,
I've gone through many difficult emotional states while traveling, living abroad, or after putting a lot of effort into a project whose outcome was miserable because of uncertain changes.
For that reason, I want to alarm you, to be ready for any changes in your life. But it can't hinder you from following your dreams and goals.
You need to embrace them, adopt them and control your adversity to live an abundant life.
Now, I'd like to hear from you.
What types of change have you experienced?
Were they for the better or for the worse?
Maybe you lack beliefs and struggle to find the starting point toward prosperity, wealth, and success.
If so, leave us a comment below.
Because the 7 Wealth Stages framework is in power over your beliefs, emotions, desires, and dreams.
It guides you toward prosperity and better life, which is holistic wealth.
So as a reminder, doerly pat the Like button to give our video more exposure, support, and love from the YouTube algorithm.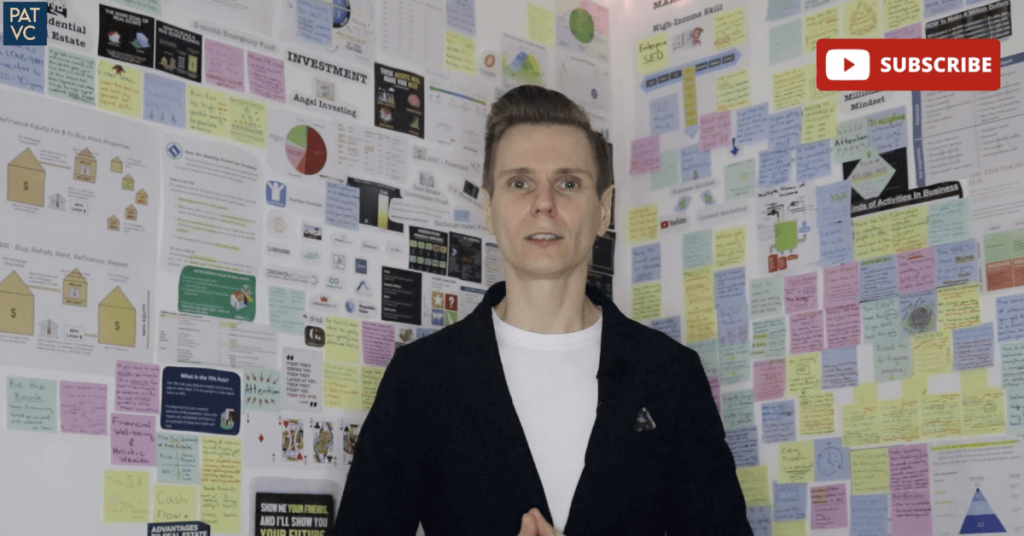 Lastly,
Click HERE to subscribe to our growing Doer's community newsletter.
Because every week you will receive one strategy that will help you identify your starting point within the 7 Wealth Stages framework.
Because I invite you to become a Doer.
And I want you to build holistic wealth.
Thanks for reading or watching and I will see you next week.