Welcome back to this sensational channel of taking action because today, we're going to talk about a vision board.
I teach that every little step in your personal or business life can deliver a huge result.
And I'm always thrilled to talk to you – to the right person who takes action and commits to an exceptional future.
In this blog post or video, you will uncover one powerful action about millionaire mindset transformation.
I want to place into your mind the word "action" and once you realize its power, I want you to remember this:
This little action has accompanied my Elite-SEO skill together with my personal life.
And this single tiny but powerful tool has allowed me to be where I'm today.
But I have to confess something.
It's taken me several years to understand this power-action.
You might have already learned it.
But if you've been struggling, I recommend listening to me and taking attention.
So, let me ask you a question first:
What if I told you that a year from now you could wake up as a completely distinct person, would you trust me?
Well, there is a simple solution.
And I want to talk about this solution, which is the vision board.
The Truth About The Vision Board
I've obsessed with creating several vision boards since I was in high school.
Actually, it was the first act where I discovered the power of painting pictures in my mind.
Since then, I've often asked my friends this question.
What would you do, if a vision board could reprogram and develop your positive mindset beyond belief?
So what was the outcome?
The problem is, most people never create vision boards.
And what surprises more is that they are unaware of what the vision board is really about.
So what about you? Are you the same?
Give me a comment below to understand your perception.
Listen, I strongly believe in the law of attraction.
Why?
Because it works…
Pat's First Vision Board
I created my first vision board in 2005, and I was looking at it daily.
Yes, every freaking day.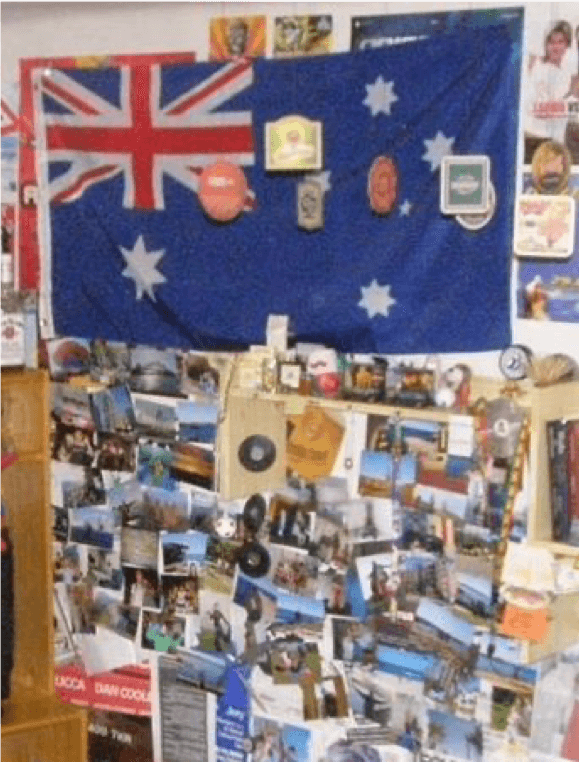 As you can see, together with several photos, there were many pictures of Australia with an enormous flag over the wall.
Now, imagine what happened?
In 2006, I ended up at school in Sydney.
Well, it worked, and that time it made me thoughtful.
Pat's Second Vision Board
Afterward, I created my second vision board with the actionable plan of traveling in Asia.
The drawing was very simple in one sheet of paper, but I looked at it every day again.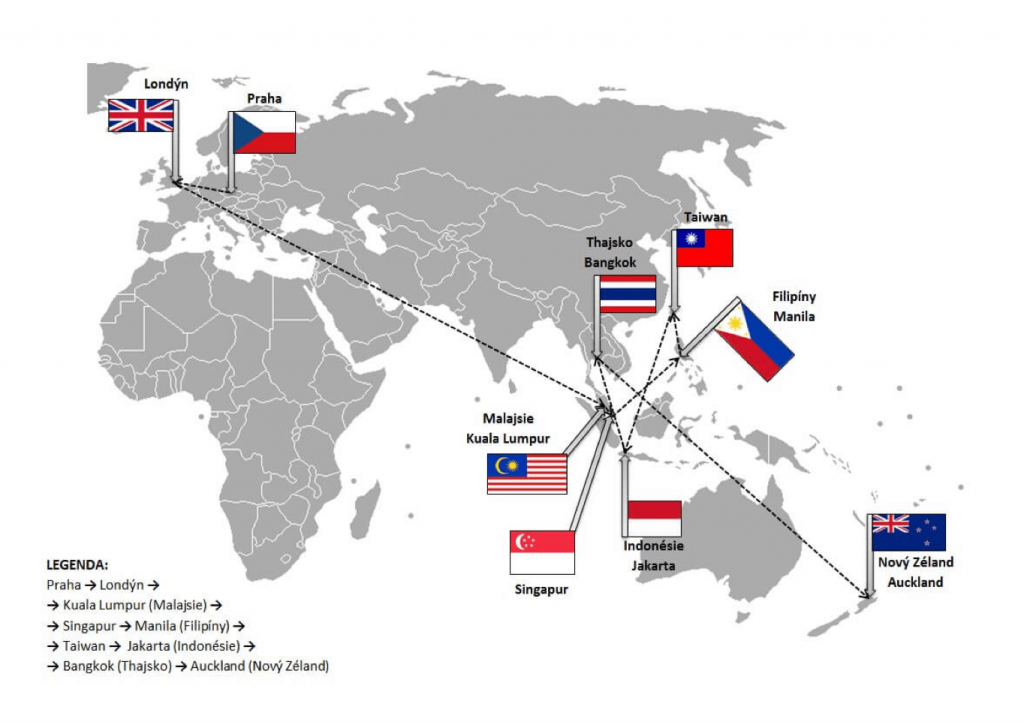 The bottom line?
I'd been traveling for over two years in Asia and that time I realized again that it works.
So no matter what you put on a vision board, visualization brings powerful mind exercises that you can achieve.
Pat's Third Board
After that, I made my best vision board with a plan of helping companies and clients with my Elite-SEO skills in Asia.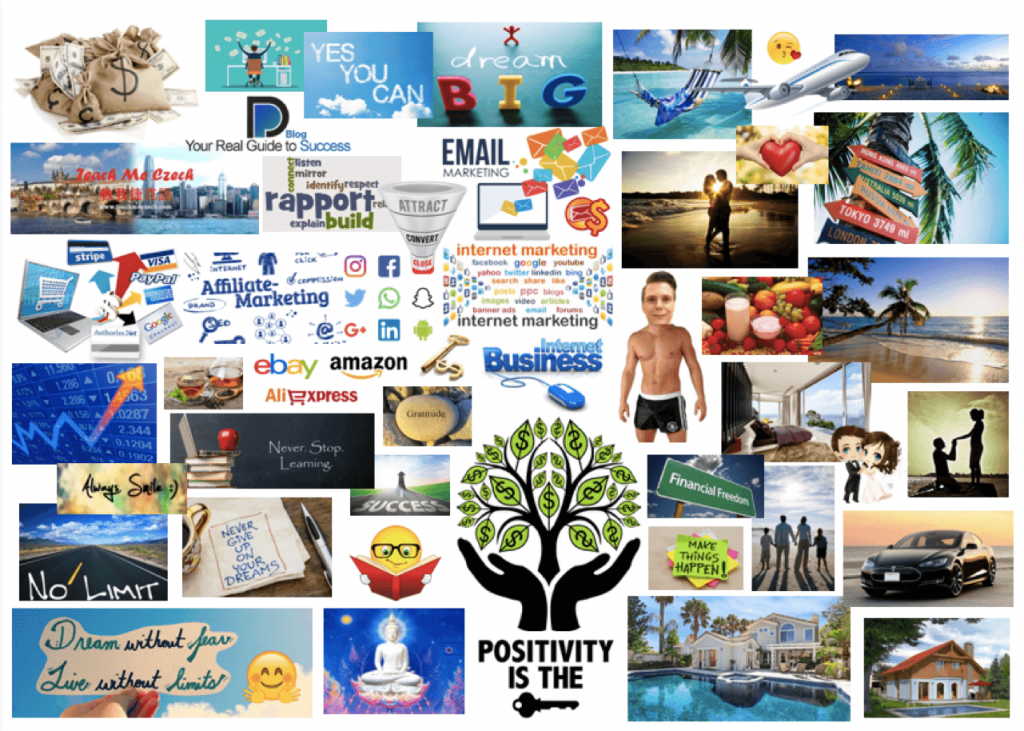 I cut out pictures of digital marketing strategies and the law of attraction found me over.
You might think it's crazy, but the obvious truth is, it happened again.
Ever wondered why…?
Here are the details.
That time, I put an image of acquiring more knowledge about digital currencies and the blockchain industry.
I wasn't immersing too much into depth, but just understanding the surface.
Because I wanted to combine my Elite-SEO strategy skills with this industry.
After a few months, I got an opportunity to work with an agency.
Our job was to lay out a go-to-market strategy for clients who launched their application on top of the blockchain.
Was it a coincidence? I let you sink into it for a while…
Pat's Fourth Board
Finally, I updated the latest version of my vision board a few months ago.
Mostly, it focuses on developing my other elite skill.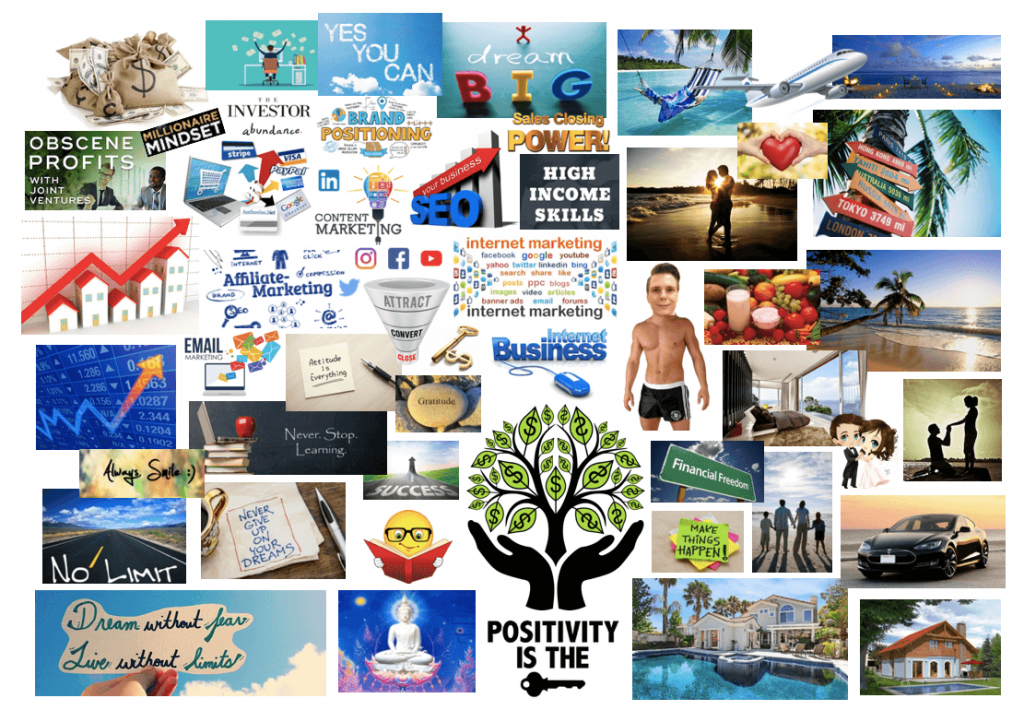 As you can see, I put a lot of effort into my brand positioning, providing value to companies and clients I cooperate with. 
It also focuses on building wealth by acquiring assets that I do understand how they work.
But I've never forgotten to combine my personal life such as family, leisure time, health, my wifey, and our future.
Now, if you should get just one takeaway of this video, I want you to remember this.
The reason why I'm saying it is that your subconscious mind will begin to absorb your visualization while you're falling asleep or while you're waking up.
Trust me, it works phenomenally.
Conclusion
And if you still don't realize it, write this down:
Think about it.
Because anything comes to you at the right moment, you just have to take the first action to paint a picture in your mind of your future.
That's the power of visualization, that's the power of a vision board.
That's why I want you to become a Doer.
So grab a sheet of paper and make it right now.
And once you execute that, come back to this article or video and put a comment below on how you feel.
Thanks for reading and I look forward to seeing you soon.