Have you ever asked the question What Is Your Why?
In fact,
If you want to experience an abundant life, you have to know your Why.
But first, by an abundant life, I mean an abundance of well-being, mindset, skills, holistic wealth, and a relationship.
Because within is ingrained your Why.
Do you agree with that?
Either way, it's truly the first step to prosper in your life.
Therefore, let 's find out more…
Introduction To What Is Your Why
Hi Doers,
My name is Pat VC and my channel is to help you to transition from being a Dreamer to becoming a Doer within 7 Wealth Stages (formerly golden rules).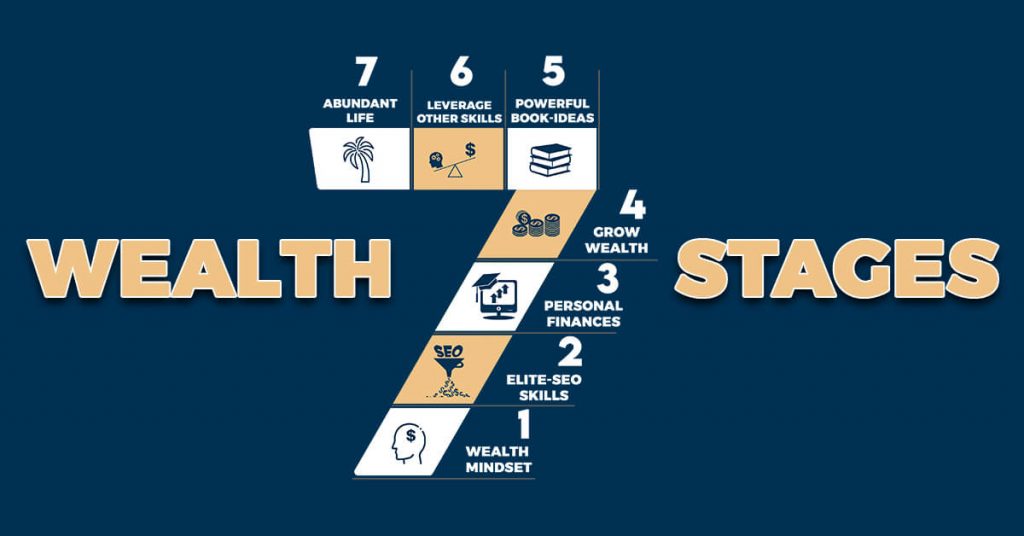 Today's topic within the stage called Experience an Abundant Life is important as it will set you in the right direction.
In general, can you find the answers to these questions?
How would you define your "Why" in your life?
Or, what is actually your Why?
Look,
Whatever your answer is, these are simple first-level questions to think about that lead to basic answers.
But in order to open your millionaire mind, there are additional levels of knowing your Why.
Have you known that?
Simply said, another level of knowing your Why is asking similar questions such as:
Why don't I earn more?
What's the reason why I'm not happy as I was a few years ago?
When, how and why do I want to achieve it?
Why do I work in this job?
Can I find a cure, why do I feel stressed?
Can you see the difference?
With this purpose in mind to find your authentic Why you need to drill deeper.
Unquestionably, to find the truth, you need to first understand five important prosperities of knowing your Why.
1. Your Why Brings Clarity And Purpose In Your Life
Remember this.
And when you see successful people or someone who you admire, you might ask the question such as:
What makes them so unstoppable and proactive?
Where do they find all the energy to follow their direction?
How can they accomplish so many things in a short time?
In brief, do you want to know the answer?
They are laser-focused and they don't chase any shiny objects.
So to be prosperous, you must have a strong purpose in your life.
Moreover, you must have clarity and motivation to wake up every morning and work on things that drive you closer to your goal.
But most importantly, this purpose must be coming from your heart because you know you work on your future and on a better version of who you want to become.
That being said, have your purpose, invest your time wisely and don't waste your precious time.
2. Your Why Inspires You To Work For Your Goals
Understand this.
Then you realize that you have to commit to your goals because you know your purpose.
And when you commit to working on what you want, you create your own path in your life.
Because you don't see yourself working for someone else.
Instead, you see yourself as an authority to others.
But it doesn't mean you have to build a large organization.
Because your goals are different than others and that's ok as long as you pursue your own path to achieving your goals.
At this time, ask yourself, what inspires you to walk this direction to achieve something?
For example, my Why inspires me every day and it's very clear for me to know where I want to be in one year from now…
3. Your Why Is Your Biggest Reason For Your Goals
At this point, whatever goal you have and you commit to it, it says a lot.
Because you have your reason.
It tells you that your goal must be very important in your life.
For example, you might have your vision board on your wall to visualize your prosperity path.
So when you've identified your life's purpose and reason, it's easier to focus on what truly matters.
Because you'll be better set to avoid distractions to achieve your vision.
Now, I'm going to tell you about my vision.
In the first place, if you looked at my wall from top to bottom, you would recognize that I'm a very organized person.
On top, you would see my huge WHY of an abundant life.
Undoubtedly, it's a holistic wealth that is divided into five categories;
Health,
Mindset,
Skills,
Wealth,
Relationship.
Then, in the second place, when you move down, you will see the explanation of How Money Works which is for me a very important topic.
Underneath, in the third place, is splitting income into several buckets to save money, grow wealth, and invest in me to find the best version of who I am and who I want to become.
And the second wall is full of my mentor's quotes, thoughts, or directions.
This is my strong Why, because…
The mindful recommendation here is to stay laser-focused because your Why is your biggest reason for your goals.
4. Your Why Enables You To Live Longer
Have you noticed elderlies just hanging around and waiting for some miracle to happen?
On the other hand, you may have your parents in their sixties, seventies, or eighties and they ignore to pursue new ventures or activities.
They just literally survive.
Sometimes, I don't understand why people have this attitude and they say:
Ooh, it's already too late, or there is no way I would achieve something in my age.
In other words…
It all goes back to their negative beliefs and mindset.
Listen,
Because I believe to keep your purpose in your life certainly brings you long life and happiness.
Your purpose, goals, and your Why are stronger than you might expect.
Do you agree with that?
Listen,
when you achieve even one tiny goal, it's such an excellent feeling because you know there are other bigger goals to work on.
And it leads me to the fifth prosperity…
5. Your Why Helps You Adapt
Let me tell you something profound.
When I came to Asia, I had little to give. I came here just with my luggage.
No one was around who would support me.
So I had to rely only on myself and on my skills.
That time with my basic SEO skills, I could earn some decent money to pay at least rent and build a new meaning in my life.
So I had to adapt to a new country, system, and culture.
I didn't waste much time, because I was working to upgrade my SEO skills.
In addition to that, I learned how money works, how to control personal finances, and how to scrutinize critical steps before investing.
These are priceless experiences and I've never regretted my decision to move to Asia.
It was my purpose, my goal, and my commitment to invest in myself and discover who I want to become. It helped me to adapt…
Time To Take Massive Action
Now, if you should get just one thing from this video, remember this:
Then, you know your Why.
Because you don't want to waste your time on your personal weaknesses.
Instead, I encourage you focus on your personal strengths and follow these five prosperities which enable you to live a life that you want.
And mainly, it gives you all the answers to your Why.
So now, what is your Why in your life?
Be honest with yourself.
Tell me in the comment below your Why, and I would love to break it down deeper by asking you some questions…
And I'll see you in the next video or in the next article.